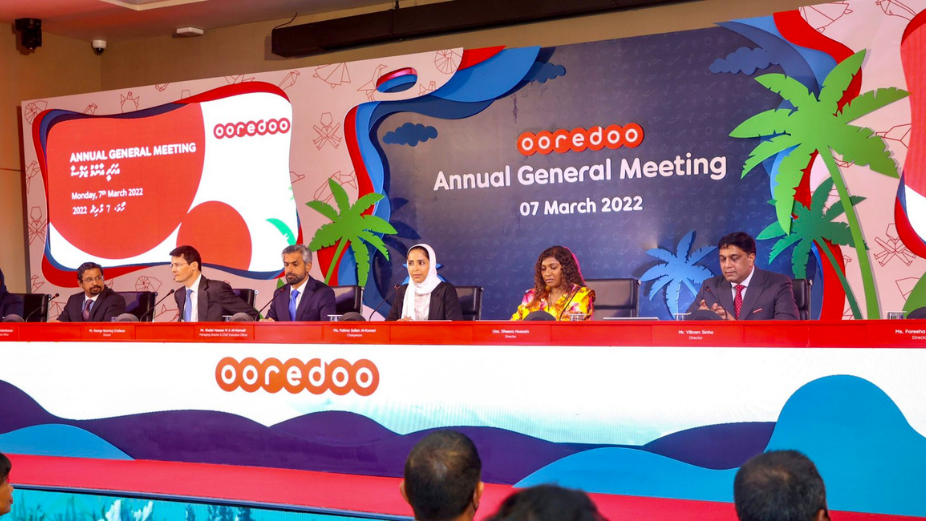 Ooredoo Maldives has announced that its Annual General Meeting (AGM) will be held on Wednesday, 8th March 2023, at 20:30 hrs. Shareholders can register to attend the AGM either physically or virtually.
According to Ooredoo, the number of shareholders who can attend the AGM by being physically present at the AGM venue will be limited to 120 shareholders. Shareholders, who have indicated a preference to attend the AGM venue and join the AGM physically, will be informed by 18:00 hrs on Tuesday, 7th March 2023, if they can do so or if attendance will have to be online. 
Shareholders attending the AGM in person will need to be present at the Event Hall at Crossroads Maldives, while shareholders attending the AGM online will need to participate through the Online Meeting Management System "FahiVote" of the Maldives Securities Depository Company Pvt Ltd.
Only shareholders who pre-register to attend or appoint a proxy, by no later than 20:30 hrs on Monday, 6th March 2023 will be able to participate at the AGM. 
Details and relevant documents related to the agenda items can be accessed from the Ooredoo website via the link http://www.ooredoo.mv/investors/.