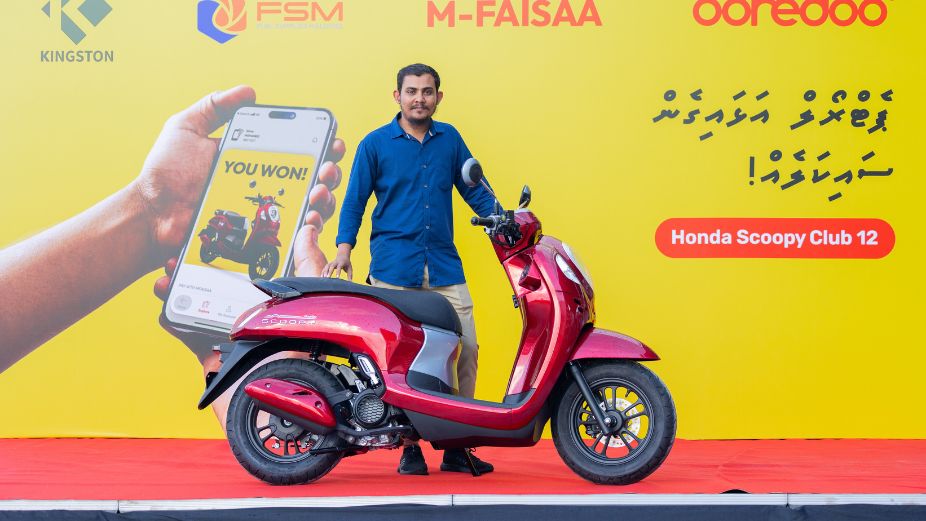 Ooredoo Maldives is thrilled to announce the handover of the grand prize, a brand-new Honda Scoopy Club 12 by Kingston Maldives, to the lucky winner of the m-Faisaa promotion held for customers who paid via m-Faisaa at FSM Petrol Sheds across the Greater Male'. The special event took place at the Bridge Viewing platform and was attended by esteemed guests, including Ooredoo Maldives' Managing Director and CEO, Khalid Al Hamadi, Fuel Supplies Maldives' Managing Director, Mohamed Gasam, and Kingston Maldives' Managing Director, Ahmed Athif Hassan.
The m-Faisaa platform, Ooredoo Maldives' innovative digital payment solution, has played a pivotal role in enabling seamless transactions for customers at FSM petrol sheds across Greater Male'. By simply scanning the QR code via m-Faisaa placed at the petrol sheds, customers can now effortlessly complete their payments using their smartphones in just seconds. This convenient and secure service aims to drive digital adoption in the Maldives, offering a reliable solution for individuals seeking efficient payment options in their daily lives.
"We are delighted to witness the positive response from our customers towards m-Faisaa and its integration with FSM petrol sheds. Our collaboration with FSM not only empowers individuals but also contributes to drive the adoption of digital financial services in the Maldives. Ooredoo remains committed to enriching lives and propelling the digital economy of the country through our innovative digital services. I would like to extend my deepest gratitude to Kingston Maldives for collaborating with us to reward our lucky winner with a brand new Scoopy Motorbike and to Fuel Supplies Maldives for enabling m-Faisaa solution with the shared vision to drive digital services" Ooredoo Maldives Managing Director & CEO, Khalid Al-Hamadi.
"At FSM, we strive to provide fast, easy, and innovative services to our valued customers. Our partnership with of Ooredoo Maldives enabling m-Faisaa service has greatly enhanced the convenience of transactions not just for our customers but for our staffs as well to monitor and manage payments. We hope to further expand our partnership to extend this service to other regions in the near future, enabling more customers to benefit from easy and secure payment solutions." Managing Director of Maldives Fuel Supplies, Mohamed Gasam,
Ooredoo welcomes customers from all networks to register for m-Faisaa via the Ooredoo App and enjoy its multitude of services, including utility bill payments, money transfers on the app and via Viber, and exclusive offers when making payments to partnered merchants. m-Faisaa customers can further enhance their digital wallets by cashing in online through leading banks such as BML, SBI, and MIB, as well as through authorized m-Faisaa agents.