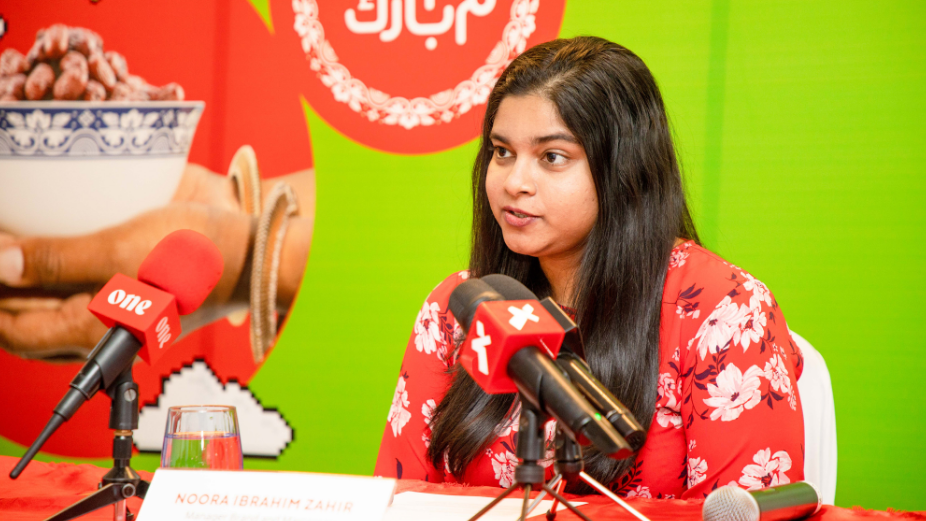 Like every year, Ooredoo Maldives is celebrating this years' Ramadan with exciting offers for its customers to stay digitally connected with friends and family during this auspicious month.
"In addition to staying spiritually connected, Ramadan is also a month where people reach out to their friends and family. To support our customers during this holy month, we are pleased to offer more benefits though our products and services and enable our customers to stay digitally connected. We wish our customers and all the Muslims across the globe a blessed month ahead." Managing Director and CEO, Najib Khan.
In-line with the spirit of the holy month and our commitment to the people this Ramadan customers can enjoy more data benefits at affordable rates. This includes:
40% Discount on SuperNet Routers
Enjoy 40% discount on the router when acquiring new SuperNet connections via Moolee till 14th May 2021.
Fitr Zakat via m-Faisaa & Prepaid Balance
Ooredoo continues to enable its customers to make Zakat payments to the Islamic Ministry at the convenience of their homes via m-Faisaa on Ooredoo App. Ooredoo welcomes customers of all networks to use its services, including utility payments, order and pay for cooking gas, payments to restaurants & shops, money transfer to friends & family.
Moreover, Prepaid customers can also make their Zakat payments via their mobile balance. To pay Zakat via Prepaid balance, dial *909# to check the options.
Prayer Alert on Viber & SMS
In partnership with Viber, Ooredoo makes it even easier to get immediate alerts for prayer throughout the month of Ramadan. To activate Prayer alerts on your Viber, Download the Viber Sticker pack.
Customers who do not use the Viber platform, can enable to receive prayer alerts to their phones via SMS. To activate Prayer alerts via SMS send "GO" to 4777.
ReethiTunes
Customers can also enjoy Free Quran verses on ReethiTunes service, simply by sending "Ramadan" to 4000.
Ooredoo has recently unveiled it's Aachaa portfolio on prepaid and postpaid, offering up to 300% greater data allowances for customers, enabling them to share more with their loved ones and truly enjoy the internet.
Aachaa Daily 2GB/Day Prepaid Plans
With a single recharge, Prepaid customers can now enjoy up to 2GB daily data and unlimited calls to Ooredoo numbers for a week or for the whole month. Aachaa Prepaid Daily Data plans provides exceptional value for Prepaid customers, with triple the data benefits.
| | | | |
| --- | --- | --- | --- |
| Aachaa Prepaid Plans | Price | Monthly Benefit | Validity |
| Aachaa 1GB/Day Weekly Pack | MVR 150 | 7 GB (1GB/ Day) Unlimited Ooredoo Calls | 7 days |
| Aachaa 1GB/Day Monthly Pack | MVR 500 | 30 GB (1GB/ Day) Unlimited Ooredoo Calls | 30 days |
| Aachaa 2GB/Day Monthly Pack | MVR 750 | 60 GB (2GB/ Day) Unlimited Ooredoo Calls | 30 Days |
To activate Aachaa Daily Data plans:
Visit Ooredoo App: ore.do/app
To activate via SM, Dial *929*2#.
Aachaa Postpaid Plans
Ooredoo Postpaid customers can now enjoy up to 6 times more data with Ooredoo Aachaa Postpaid plans with first of its kind benefits in the market. The all new Aachaa Postpaid plans offers the benefit of Daily Data Renewal & Unlimited Ooredoo Calls where customers can choose a plan that suits their daily data needs.
| | | | |
| --- | --- | --- | --- |
| Aachaa Postpaid Plans | Price | Monthly Benefit | Validity |
| Aachaa Postpaid 600 | MVR 600 | 60GB Monthly Data (Regular 1GB/Day, Social 1GB/Day)Unlimited Ooredoo Calls 300 Off-net mins | 30 Days |
| Aachaa Postpaid 800 | MVR 800 | 120GB Monthly Data (Regular 2GB/Day, Social 2GB/Day)Unlimited Ooredoo Calls 600 Off-net mins | 30 Days |
| Aachaa Postpaid 1000 | MVR 1000 | 180GB Monthly Data (Regular 3GB/Day, Social 3GB/Day)Unlimited Ooredoo Calls 1000 Off-net mins | 30 Days |
For more information and details on the Ooredoo's Ramadan offers, please visit, ooredoo.mv