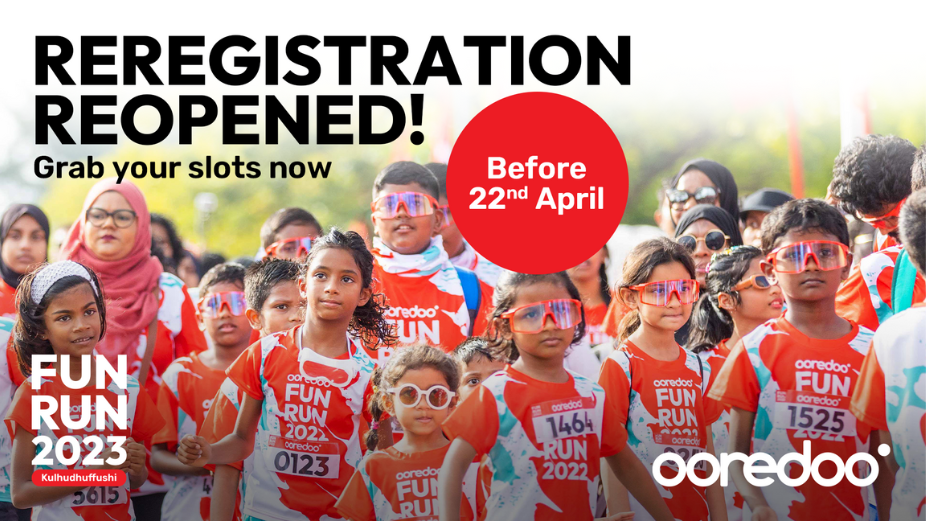 Ooredoo Maldives has re-opened registrations for Ooredoo Fun Run – Kulhudhufushi to enable more participants to register and participate in the Happiest Run in the Maldives. Anyone who would like to join the run can register till 22nd April 2023 on the e-commerce platform Moolee, http://ore.do/funrunkit.
Ooredoo Fun Run – the upgraded version of Ooredoo Color Run, the most anticipated run is a fun-filled 5K run designed to be enjoyed by families and friends of all ages and is to be held in Kulhudhufushi on 5th May 2023. As an untimed and fun-filled 5K, the event welcomes new and experienced runners to join in the excitement. Each kilometre covered will be celebrated with a unique fun station with colours, water and fun obstacles and more. As the run is not a timed event, participants can choose to walk, jog, run or dance to the finish line, where their efforts will be celebrated in style with a foam party, finisher medals & a music show.
Ooredoo Fun Run kits will be available in two categories:
Standard kits priced at MVR 100 comes with Fun Run T-shirt and wristband.
Fun kits priced at MVR 200 includes a Fun Run T-shirt, wristband, cloth bag, eyeglasses and a multipurpose bandana.
Ooredoo Fun Run will be held in Kulhudhufushi on 5th May 2023. Ooredoo is excited to welcome running enthusiasts, people who are curious about running, and everyone who is interested in a good time, to join the fun at Ooredoo Fun Run Kulhudhufushi.
To register for the happiest run in the Maldives – Ooredoo Fun Run, Kulhudhufushi edition visit: http://ore.do/funrunkit
To get more information about the run, please visit ooredoo.mv and follow us on Ooredoo Maldives ' social media pages.