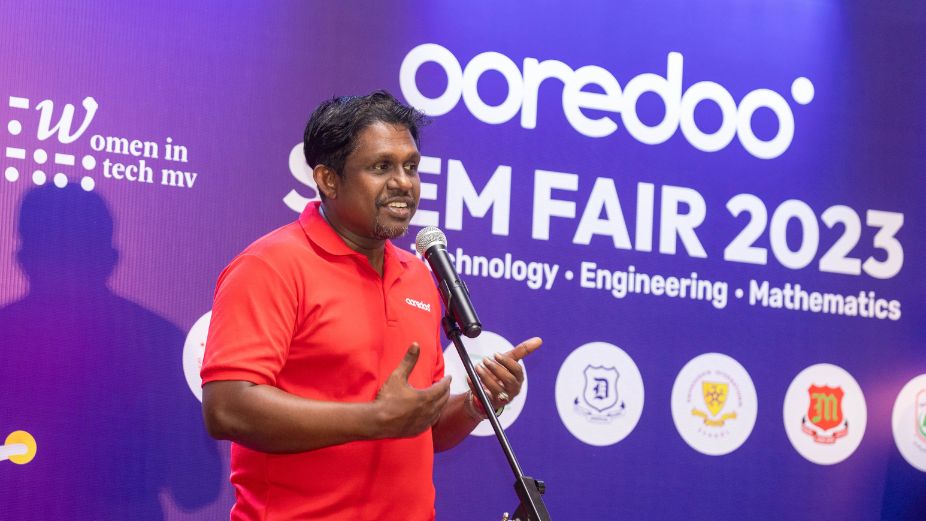 The two-day Ooredoo STEM Fair 2023, held on the 3rd and 4th of March 2023, has concluded with great success from the participating schools. The event, held at Izzudeen School Hall, provided a platform for young minds to showcase their innovative STEM projects and compete for prizes.
The awards ceremony, held today, 4th March 2023, recognized the outstanding achievements of the participants, with individual ribbons presented to First-, Second-, and Third-place prize winners in Junior, Senior, and Novice categories. Iskandhar School emerged as the Overall Best School and was awarded MVR 50,000, while MVR 10,000 was awarded to each first-place winning project from each category. Additionally, all participants received a certificate of participation.
Hussain Niyaz, Chief Commercial Officer of Ooredoo Maldives, expressed, "Ooredoo Maldives is proud to have provided a platform for young innovators to showcase their talent and creativity. The STEM Fair has shown the immense potential of our future leaders, and we believe that their innovative projects will drive the digital transformation in the Maldives."
Hon. Minister of Education, Aishath Ali, expressed her appreciation for the innovative projects showcased at the Ooredoo STEM Fair, stating, "The projects presented by these brilliant young minds demonstrate their potential to become future leaders in STEM fields. The Ministry of Education remains committed to fostering STEM education among our youth and providing them with opportunities to develop their skills and interests in these areas."
In the Novice Category (4th to 6th Grade), Iskandhar School won first place with their Eco Farm project. While, Waste to electricity project by Iskandhar School, Bicycle Operated Vending Machine project by Majeedhiya School, The Solar Dehydrate project by Ghiyasuddin School, and Air Pollution Detector project by Iskandhar School took the second and third place respectively.
In the Junior Category (7th to 8th Grade), Wave Barrier project by Ghiyasuddin School took the first place, followed by Oi Vashi project by Iskandhar School in the second place and Modernised Zebra Crossing project by Kalaafaanu School and Wave energy Buoy project by Ghiyasuddin School in the third place.
In the Senior Category (9th to 10th Grade), Aquaponics project by Iskandhar School won the first place, followed by MANFA project by Iskandhar School in the second place and Electricity from Flywheel project by Kalaafaanu School and Coconut Science project by Majeedhiya School in the third place.Ms. Mariyam Shimaanath, Vice President of Women in Tech, congratulated the participants and winners and said, "We believe that every student should have the chance to experience STEM activities, that shape our future. We are confident that Ooredoo STEM fair has played an important role for students to explore this field. We encourage collaboration among government, private sector, and community to create more opportunities for students to engage in STEM."