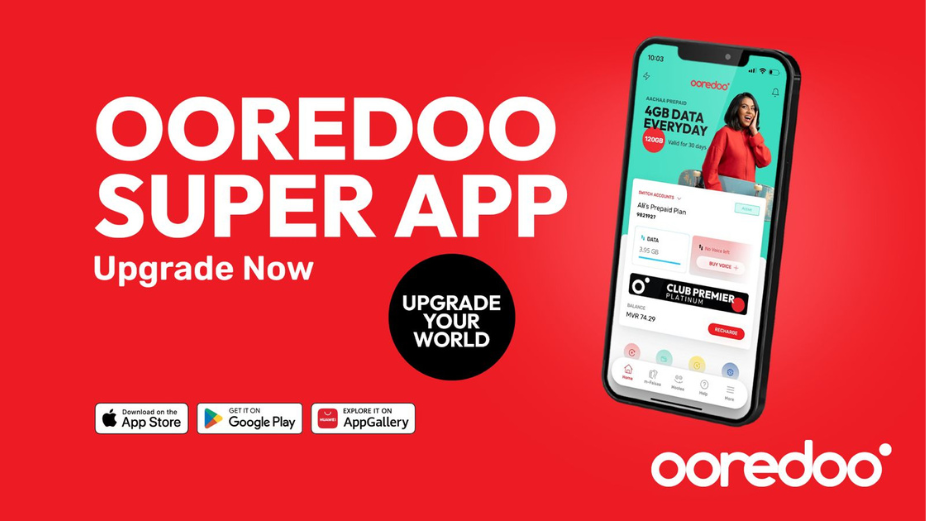 In an age where immediate accessibility is the norm, Ooredoo has redefined digital convenience with the launch of the Ooredoo Super App, offering everything from Telco services to a seamless digital wallet and online marketplace at one's fingertips.
This revolutionary app is not just an app; it provides an end-to-end solution that brings together numerous services all under one digital roof. From telecommunications to online shopping and digital payments, with the all-new user interface streamlining the customer journey, the Ooredoo Super App has redefined how you experience the digital world.
One of the standout features of the Ooredoo Super App is its seamless customer onboarding journey. Ooredoo customers who would like to acquire new services now do not have to take the time out of their busy schedules to go visit a physical shop. Whether it is to purchase a Postpaid or Prepaid SIM card, or a new Broadband device, customers can directly buy from the online marketplace – Moolee, and even activate the service all through the app. These SIM cards and devices can be conveniently delivered to your doorstep, no matter where you are across the nation.
The app also has enabled a secure one-tap log-in experience for returning users who are on the Ooredoo mobile network. While prioritizing security, the Ooredoo App offers a convenient, time-saving and secure login experience.
Streamlined Account Management
Managing your Ooredoo services has never been simpler. The Super App allows customers to view all their services under Manage Accounts on the main menu and easily link them to the app for quick access. Whether you're checking your mobile data usage or reviewing your broadband plan, it's all at your fingertips.
Moolee Online Marketplace
The Moolee online marketplace is a digital shopping haven within the Ooredoo Super App. Here, you can explore a wide range of products and services, from electronics to smart home devices, local products, groceries, books and stationary and more with the convenience of mobile shopping. It's a one-stop destination for all your online shopping needs, and it's just a click away. This online marketplace empowers local businesses to grow and reach a wider audience. Moolee online marketplace provides free nationwide delivery for its customers, making the online shopping experience convenient and worthwhile.
m-Faisaa Digital Wallet
Say goodbye to the hassle of digging for your credit card – your mobile device is now your digital wallet. With digital payments becoming increasingly popular, the Ooredoo Super App has also integrated its digital wallet – m-Faisaa into the App. This wallet enables instant access to make payments using native authentication methods like Touch ID and Face ID. The wallet allows users to make seamless payments to clear Ooredoo Bills and utility bills, pay and order cooking gas, and make payments to merchants including a wide range of restaurants, cafés, clinics, schools, gym facilities and shops. Furthermore, you can also make donations to an NGO that is dear to your heart with confidence and contribute to building our society.
Personalized Experience
Ooredoo Super App doesn't just offer services; it tailors your entire experience based on your preferences and active services. From personalized communication within the app to targeted banner ads and notifications, the app is designed to cater to your individual needs. Customization is key, and Ooredoo Super App also offers a unique feature called "Magey Plan." This allows users to customize their Postpaid and Prepaid plans, a first in the Maldives. You have the power to tailor your services to suit your needs perfectly.
Chat Support on Demand
Customer care is at the heart of the Ooredoo Super App experience. Ooredoo Live Chat feature allows you to start a chat and receive instant support for any Ooredoo service issue. Whether it's a query about your mobile plan, a billing concern, or technical assistance, you can get in touch with Ooredoo's dedicated support team available 24/7, every day, to provide you with the assistance you need. With Ooredoo Live Chat, help is just a message away, ensuring your digital journey remains smooth and worry-free.
Upgrade your world and experience the seamless digital journey of Ooredoo Super App: http://ore.do/app