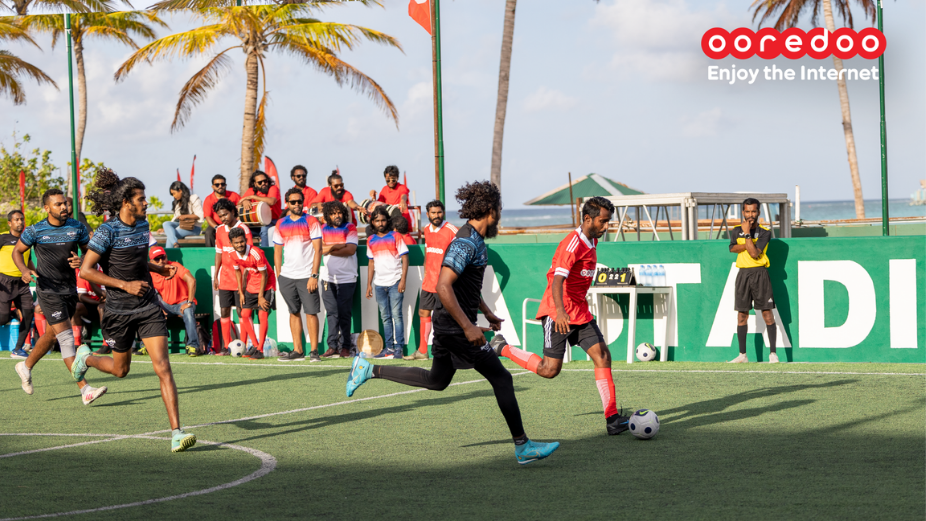 Ooredoo Maldives has launched its new campaign, "Ooredoo World Cup Foari" and officially kickstarted its activities to enable Maldivian football fans an exciting and fun World Cup experience. The kick off event was held at the Crossroads Maldives, where Team Ooredoo and Team Hard Rock Hotel played a friendly match. The event was inaugurated by the Honorable Minister of Youth, Sports & Community Empowerment, Mr. Ahmed Mahloof with a kick of the official ultimate match ball for the most anticipated 2022 World Cup competition.
"Today we have officially kick started Ooredoo World Cup Foari and this is just the beginning. We have exciting opportunities and activities planned for our customers during this football season. Our aim is to create an unforgettable World Cup experience across the nation that can be enjoyed together." Managing Director & Chief Commercial Officer, Khalid Al-Hamadi.
The event was made more fun and exciting with performances by Habeys Boduberu and the Maldivian Red Bull Free Style Champion Mohamed Saif Zahir prior to the friendly futsal match. Furthermore, speaking at the event, the Managing Director and CEO of Ooredoo Maldives reaffirmed its commitment to make the World Cup football season a colorful and enjoyable time for communities across the nation.
The leading telecommunications operator, Ooredoo Qatar was announced as the Official Middle East & Africa Telecommunications Operator of the FIFA World Cup Qatar 2022™ in November 2021. With this strong commitment to FIFA and World Cup 2022 by Ooredoo Group, Ooredoo Maldives remains steadfast in creating a colorful and end enjoyable football festive and enable communities across the nation to be a part of this most exciting event of the year 2022.