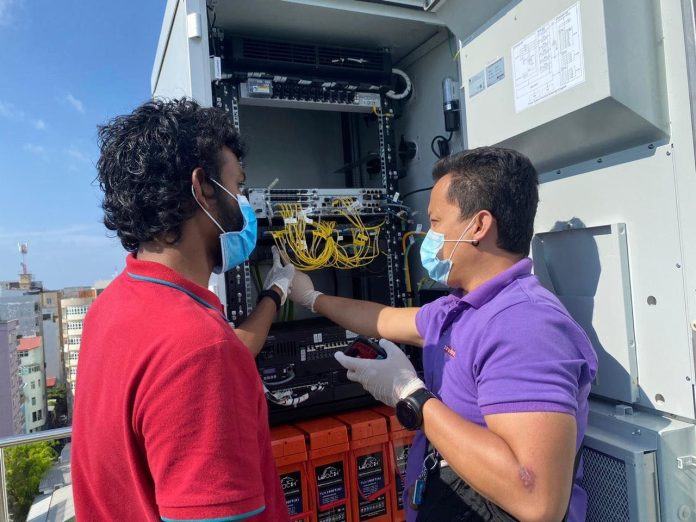 How working from home was arranged during the lockdown and the staff who was stationed in the office due to the nature of the job role.
At a time where the people in the society can not be together with our friends and families, keeping customers digitally connected has been the utmost priority during these unprecedented times. At the same time, it is equally important for Ooredoo to protect its employees and provide a safe working environment while maintaining business continuity to provide its services.
Ooredoo's mission is to enrich the lives of the communities. According to the company, the strategy of human growth begins within the circle. Without a doubt, COVID-19 presented its challenges to the way of life and way of work. However, as a team, Ooredoo has overcome the challenges with strategies that ensure the safety of its employees by implementing remote work policies that provide staff the right tools and platforms to successfully carry out tasks and collaborate with team members.

In alignment with Ooredoo's business continuity plans, an emergency response team was created by the company to navigate them through this unprecedented crisis. The company also created an Epidemic Response Plan to ensure the safety of employees and the continuity of services to customers and appointed Marshalls to ensure that these measures were implemented according to the response plan. As the community as a whole is, journeying through uncharted territory, it is more than understandable that these new circumstances could cause stress and anxiety.
To address this issue head-on, Ooredoo has created an Emergency contact and email address for employees to reach out for assistance with any difficulties faced due to the situation. To help further deal with the situation, regular Internal communications were sent via email, and awareness SMS were sent to keep all employees informed of the proper precautionary measures advised by HPA and other Government bodies. Ooredoo has circulated Infographics, Memes & videos to spread awareness on effective ways to work from home, how to keep healthy mentally and physically during the lockdown, and on ways to stay positive.

With the emergence of COVID-19 globally, Ooredoo has initiated a plan to work from home and implemented prevention measures instantly. Designated cleaners were arranged to disinfect Ooredoo offices and Ooredoo Experience Centers across the Maldives twice a day. Ooredoo also informs that Sanitizers were kept near all door entries and also ordered shipments of hand sanitizers as a precautionary action for the future.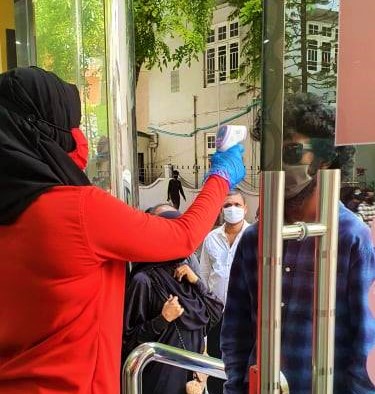 All employees of the company were further provided with employee ID cards to access floors and digitized attendance sign-ins with biometric sign-in via the MiHCM App. ERP on cloud has facilitated the entire back end management of the company and all its employees were provided with Email access and desktop with 1TB virtual drive on the cloud using Office 365.
Ooredoo Maldives was among the first organizations to implement work from home policy. From March 10th onwards 95% of the employees have been working from home. Ooredoo IT team enabled secure access to our internal platforms and necessary files via Cloud-based systems for the employees to carry out their tasks effectively from the safety of their homes. Meeting and conferences were regulated to be held only via video calling throughout the organization.
Regarding Ooredoo's New Way of Work, Ooredoo Maldives Acting Director of Human Resources & Administration, Fazna Mansoor states, "During the lockdown, the management ensured all staff was working remotely from their homes unless absolutely necessary. We closed down our Experience centers and digitized all our services to process all customer queries and requests online. We leveraged on our digital platforms and transformed our customer service completely on digital. Our digital care teams were available for our customers 24/7 via Live Chat on Ooredoo App & Website. Social media teams catered customer queries on our social media channels round the clock."
"To help our staff carry out these tasks effectively, we provided Laptops, with reliable and secure VPN access to necessary files via Cloud-based systems such as Salesforce and CRM. Specific connections and call routing to home for call center staff, outbound calling via mobile & other required arrangements were established. We continued daily briefings, meetings, and training as before via online platforms. We had 2 staff doing deliveries for OEC related requests for such as SIMs & devices with necessary precautionary measures." states Ooredoo Maldives Senior Manager Customer Care, Dhiyana Afeef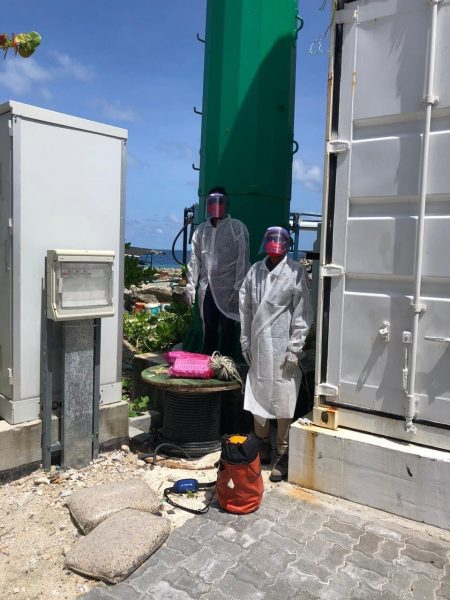 " Our technology team did an amazing job in facilitating our employees to securely work from home with remote access to all required tools and platforms," said Ooredoo Maldives Director Network IT Planning, Shabeen Ali. "All our meetings are conducted using audio/video cont solutions. Due to the nature of work, it was absolutely necessary to have a technical team on the ground and in the field to keep our customers connected during this time of need. Hence, we created a safehouse in Ooredoo Hulhumale's office where 18 volunteers are working from the safe house to date. Rest of the teams are working from home, some in Male, some in Islands and a few members abroad as well"
What is the 'new normal' for Ooredoo?
While Working from Home presented its challenges at the initial stage, Ooredoo states that it has been a learning experience for Ooredoo where the team has learned to adapt to a more agile and dynamic way of working. It has taught the company that though the company and its employees are not physically together, with teamwork, the right coordination, and commitment the company can perhaps be productive and get things done. With this new experience, Ooredoo is continuing with the flexibility of working remotely, where employees can attend office on a need basis.
To ensure safety for all, Ooredoo has developed guidelines to be followed by all employees who are required or who prefer to work from the office.
Floor markings are made to ensure 6 feet physical distancing is maintained throughout the office and Ooredoo Experience Centers.
Regular disinfection of all premises will be carried out before and after work hours.
Gloves, masks & PPEs are made readily available for employees.
Switched to closed dustbins in all Ooredoo offices and shops.
All Ooredoo Maldives Offices have been equipped with Thermometer Guns and Hand-sanitizers to ensure safety while mandating to wear face masks when in office.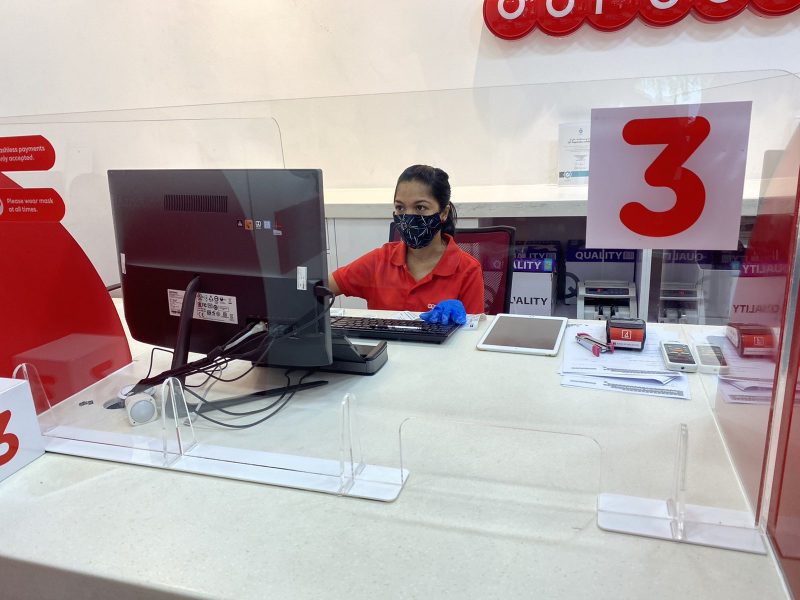 Ooredoo has developed SOPs in line with HPA/Who recommendations and employees are complying with those SOPs.
What are the key changes that employees will see when they return to the office?
With the lockdown being lifted in the Maldives, "New Normal" is still evolving. Based on current circumstances, Ooredoo is following HPA/WHO guidelines and has re-opened Ooredoo Experience Centres for selected services. Ooredoo has also developed specific SOPs in alignment with WHO/HPA guidelines to follow the "new normal" in the OEC operations & Call Centre functions as the team is required to work in the frontline facing customers on a regular basis.
Ooredoo informs that the seating arrangements in Ooredoo's call center has been changed to ensure physical distancing and is mandatory for all employees to use face masks at all times inside the office. Ooredoo will also provide hand sanitizers and regular temperature checks as a precautionary measure.
In OECs the whole arrangement has been changed from counter set-up to the seating arrangements for the customers. Only a limited number of customers will be allowed at one time, counter separators been placed in between the counters and between the customer & agent. Customers are also provided with marked seats and queue points in waiting areas to guide them in maintaining physical distancing. At the entrance, body temperature will be checked, hands will be sanitized before entering the premises. The company also highlights that the customers with a temperature above 37 degrees are not allowed to enter and are mandatory to wear a mask at all times. To avoid direct contact further, the company will not be accepting cash payments until further notice.
What is the most crucial factor in adapting to a new normal?
At Ooredoo Maldives, always believed in Agile working practices to create an adaptive and flexible workplace environment, which leads to an increase in productivity and efficiency by bringing key stakeholders together in more efficient and optimum ways. In 2018, Ooredoo has initiated Agile working practices with Strategic Business Units. With the success of these Business units, in 2019 Ooredoo expanded Agile working practices to Core Business Functions. With COVID 19, Ooredoo has explored remote working and has learned that the company can be productive and get things done even if the team is not physically in the same space. This contributes and increases the flexibility of the workplace environment.
New normal practices empower employees and it is crucial for employees to instill accountability and responsibility in them to be productive, to deliver as per deadlines, and to ensure the safety of oneself and others. The flexibility of working from home comes with its own advantages, however, it is also equally important for employees to manage time, organize the tasks (both work-related and personal) that needs to be done and separate working hours to maintain a work-life balance.