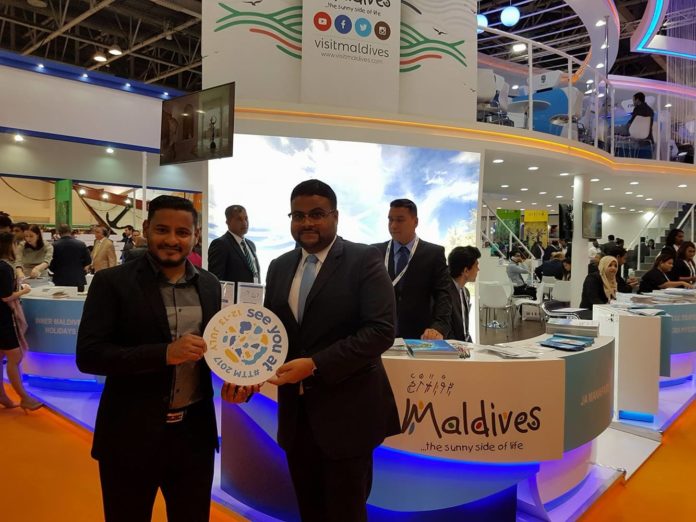 Over 100 international travel trade professionals (tour operators, media, industry experts) have confirmed their participation in the upcoming Travel Trade Maldives (TTM), the first ever international travel trade show of Maldives.
In an announcement, local PR firm Maldives Getaways, which is organising the annual fair, said that along with the confirmed 100 resorts and hotels, 150 international buyers and travel media representatives are expected to attend the show, it added.
Set to be held at the main convention centre in capital Male Dharubaaruge from July 12-13, TTM will connect Maldivian tourism industry stakeholders with a global network of travel agents.
Bank of Maldives (BML) has signed up as the platinum partner, making the country's largest bank the title sponsor of "BML Hotelier Summit Maldives 2017", a special forum within TTM where leading hotel owners and operators will discuss ways to address the challenges faced by the industry.
Local telecom giant Dhiraagu, and state run Maldives Transport and Contracting Company (MTCC) and State Trade Organisation (STO) have signed up as gold partners. Silver partners include leading boat builder Al Shaali Marine Maldives, Singapore-based interior designer and supplier OneStop, India's Mohan Mutha Exports, M7 Print, Copier Plus, Event Maldives, and state run Maldives Gas and Maldives Airports Company Limited (MACL).
Meanwhile, world's leading budget airline AirAsia, Maldives flagship carrier Maldivian and world's largest seaplane operator Trans Maldivian Airways (TMA) have been chosen as airline partners of TTM, while several local and international travel media, including Maldives Insider, serve as media partners.
In addition to the Hotelier Summit, TTM will host Pacific Asia Travel Association (PATA) Academy for the first time in Maldives. TTM gala night, to be held at Adaaran Select Hudhuranfushi resort, will host Maldives Travel Awards: People's Edition which recognises 10 outstanding individuals from the hospitality industry.
A tourism career fair will also be held as part of TTM, providing job seekers, students, employers, training institutions and government agencies an opportunity to network. The career fair will be exhibited by resorts, liveaboards, leading hotel chains and service providers in the tourism industry.
Maldives recorded 1.2 million tourist arrivals in 2016 with a total of receipts around USD 2.5 billion. With the rapid changes in global travel markets, Maldives continues to strengthen its foothold as one of the leading tourist destinations in the world. While tourism still remains the leading economic industry in the country by far, innovative new approaches in marketing are required to ensure the sector remains at the top.
TTM aims to facilitate the tourism industry of Maldives to reach the ultimate target of two million tourists with over USD 3.5 billion in receipts by the end of 2020.