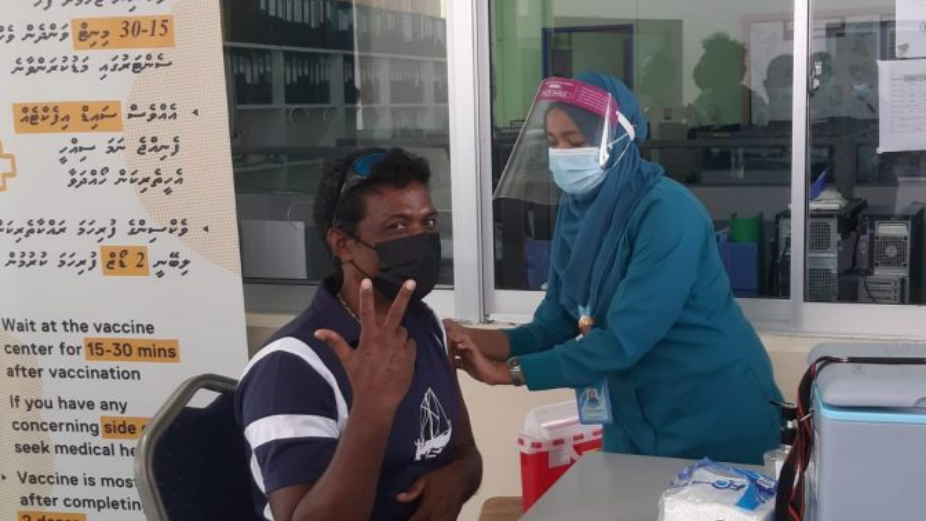 According to Health Protection Agency (HPA), over 123,000 people have been vaccinated against COVID-19 in the Maldives as of 2nd March 2021. This includes over 6,000 tourism industry workers from more than 40 resorts, revealed Assad Riza, Deputy Minister of Tourism.
Since the beginning of the vaccination programme on 1st February 2021, a total of 123,665 people have been vaccinated including 79,356 people in the Male' area and 44,309 people in the atolls.
"We are extending the vaccination drive to the resorts in line with the permits by HPA", said Assad Riza, Deputy Minister of Tourism. "We currently have the vaccination drive set up in over 40 resorts. Our target is to set up atleast 2 vaccination centres in each atoll. Resort staff can also travel to nearby resorts to get vaccinated. We have also trained over 50 resort doctors for the administration of the vaccine."
The first round of the vaccination in the Maldives will see the rollout of 100,000 doses of Covishield vaccine. The "Covishield" brand vaccine administered, is developed by the Serum Institute of India (SII) and had the same formula as the Oxford-AstraZeneca vaccine. On January 20, 2021, the Government of India donated a shipment of 100,000 doses of the vaccine to the Maldives. Another 100,000 doses of the vaccine have been granted during the visit of the Minister of External Affairs of India Dr. S. Jaishankar to the Maldives.
Meanwhile, the Chinese government has also pledged to provide 100,000 doses of COVID-19 vaccine to the Maldives. The government has also revealed further vaccines will be purchased from AstraZeneca, and will arrive soon.
Two shots of the vaccine are required to complete the dosage, with 4-12 weeks required between the two shots. Health Emergency Operation Centre (HEOC) stated the second dose will be administered 8 weeks after the first dose.