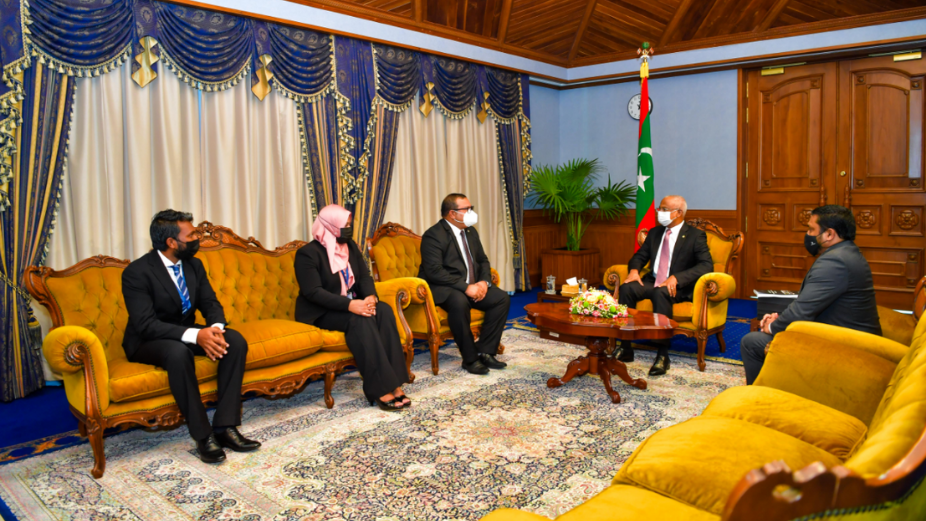 The Parliament's Committee on National Security Services, on Sunday afternoon, presented President Ibrahim Mohamed Solih with its inquiry report on the May 6, 2021 terror attack that targeted the Speaker of the Parliament and former President, President Mohamed Nasheed, and left him seriously injured. The report was delivered to President Solih by the Member of Parliament for North Hithadhoo constituency and Chairperson of the Committee, MP Mohamed Aslam, at a meeting held at the President's Office.
Speaking to the Committee members after receiving the report, President Solih acknowledged the importance of such an inquiry and the outstanding work done by the Parliament's National Security Services Committee. The President affirmed that he would carefully review the report's findings and that it would be shared with the National Security Council (NSC) to make necessary amendments per the report's recommendations. President Solih also thanked the Parliamentary committee for the diligent work they did in such a short period of time.
The Committee members thanked the President for the support extended by the government during their probe and noted that the government agencies they inquired with were cooperative. The members emphasised that it was an inquiry and not a formal investigation. The Committee members also expressed confidence that the government would follow the recommendations made in their report. The Chief of Staff at the President's Office, Uz Ali Zahir, Secretary-General of the Parliament, Fathimath Niusha, and the Director of Legal Affairs at the Parliament, Ahmed Nazim Mohamed, were also present at today's meeting.
The Parliament approved the report compiled by its Committee on National Security Services at the sitting held on 8 July 2021. The report, which includes 45 recommendations, had been publicised on the Parliament's website.