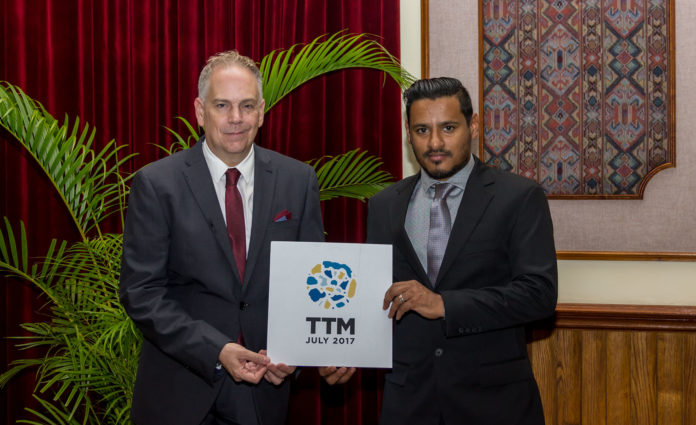 Pacific Asia Travel Association (PATA) has pledged to offer their full support to make Travel Trade Maldives (TTM) 2017 a complete success.
PATA made this pledge during ITB Berlin, where Dr. Sunny Umar, Chief Operating Officer (COO) of Maldives Getaways, the organizers of TTM, met with Mr. Mario Hardy, Chief Executive Officer (CEO) of PATA. The Pacific Asia Travel Association has also signed an agreement with Maldives Association of Travel Agents and Tour Operators (MATATO), an association exclusive to Maldivian Travel Agents and Tour operators, to stage its first 'PATA Human Capacity Building Program' in Maldives during TTM 2017. With Hoteliers and travel service providers as associate partners, MATATO represents over 60 leading travel business in Maldives.
Founded in 1951, the Pacific Asia Travel Association (PATA) is a not-for-profit association that is internationally acclaimed for acting as a catalyst for the responsible development of travel and tourism to, from and within the Asia Pacific region. The Association provides aligned advocacy, insightful research and innovative events to its member organizations, comprising 101 government, state, and city tourism bodies, 26 international airlines, airports, and cruise lines, 70 educational institutions, and hundreds of travel industry companies in Asia Pacific and beyond. Thousands of travel professionals belong to the 40 local PATA chapters worldwide.
Travel Trade Maldives (TTM), will be held on 12th and 13th July 2017 and is the platform that connects the travel trade community of the Maldives to the global network of travel agents easily and instantly. Staged annually in Maldives, TTM aims to facilitate the tourism industry of Maldives to reach the ultimate target of 2 million tourists with over $3.5 billion in receipts by the end of 2020. More than 300 hoteliers, suppliers, related industries and travel professionals from Maldives and abroad are expected to visit TTM to network, negotiate and discover the latest industry opinion and trends in Maldives.