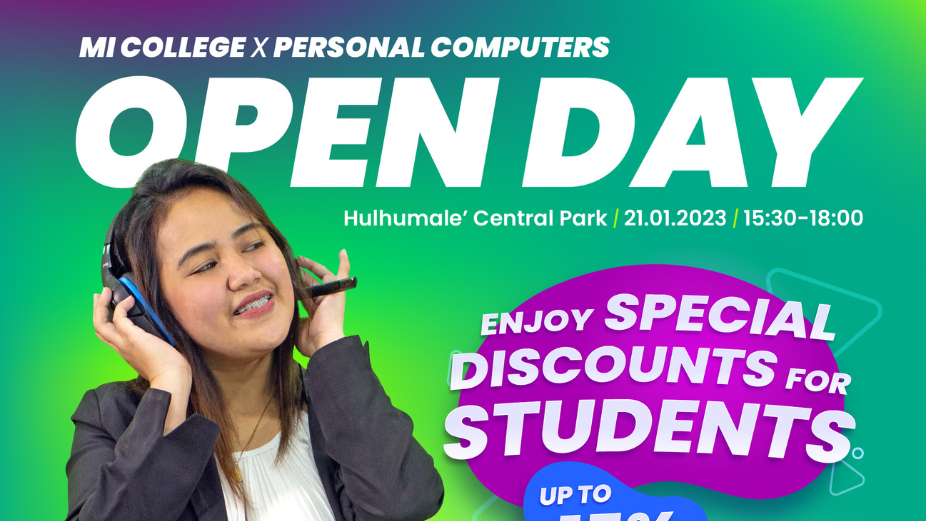 Leading technology solutions provider, Personal Computers has announced a new partnership with MI College. As part of this partnership, Personal Computers will be introducing a student discount of up to 15% off for the staff and students of MI College at MI College's Open Day event taking place at Central Park, Hulhumale' on 21st January 2022.
The partnership is aimed at empowering education by providing students with access to the best technology solutions to support their academic needs. With the growing reliance on technology in education, having access to the right tools can make a significant impact ability on the students' ability to succeed. Once registered and signed up with MI college, they will be able to receive up to 15% off on purchases at Personal Computers.
To promote this partnership and educate students about the best technology solutions for their needs, representatives from Personal Computers will be attending the MI college open day on Saturday, 21st January 2022, from 1530hrs to 1800hrs. The event will allow students to learn more about the multitude of devices available and how to utilize them for education purposes.
This partnership is not only limited to MI College, but is open to all colleges in the Maldives. Personal Computers is committed to empowering education and helping students succeed, and this partnership is just one of the many ways in which it is working to support this sector in the Maldives. Personal Computers states will continue to explore new ways to empower students and educators.