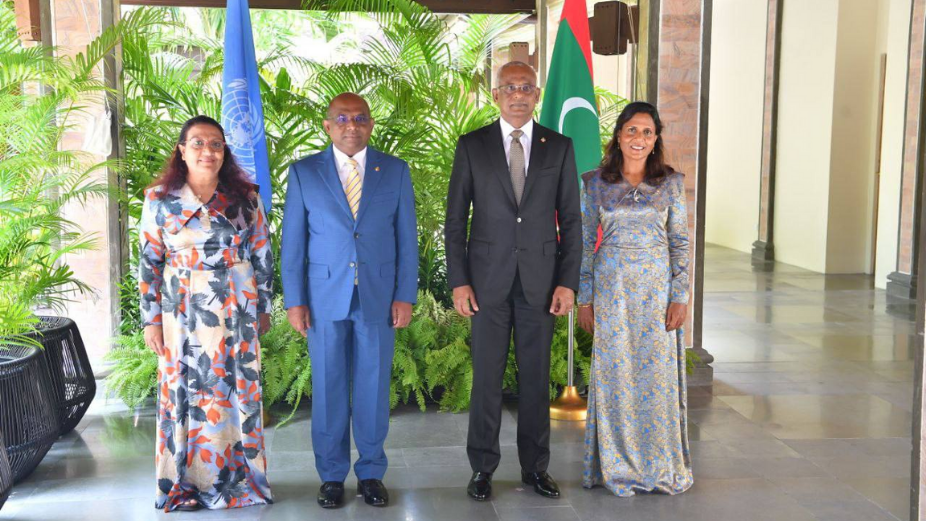 President Ibrahim Mohamed Solih has stated that the President of the 76th Session of the United Nations General Assembly (PGA), State Dignitary, Order of the Distinguished Rule of Izzudin H.E Abdulla Shahid's vision, "Five Rays of hope", will address vital issues that align with the Maldives' national interests. He made the statement at the Official Luncheon hosted on Thursday afternoon by the President and First Lady Fazna Ahmed in honour of the PGA.
Speaking at the luncheon, President Solih thanked the PGA for visiting the Maldives on a state visit, highlighting that it is indeed an honour to the entire nation that a Maldivian is occupying one of the most dignified positions of the world.
In his speech, the President stated that expertise and assistance from international partners are vital to the Maldives in its path to Covid-19 recovery and sustainable development. Adding that commitment from developed nations is vital to addressing global environmental issues, the President stated that the Maldives wishes the UN to treat every nation in an equal manner, as a platform that respects the individuality of every nation.
President Solih portrayed the Maldives' win at the UNGA Presidency seat as proof of the international community's acceptance of the Maldives' foreign policy. He said that a Maldivian being elected as the PGA is hope for the Maldives' goals on the global stage, adding that it also depicts the close relations fostered through the administrations' firm diplomatic policy.
He closed his statement anticipating further spotlight on the Maldives in the international arena within the PGA's tenure as the "Presidency of Hope".
The Official Luncheon hosted by the President and First Lady at Kurumba Maldives island resort on Thursday afternoon was attended by cabinet ministers and state dignitaries.