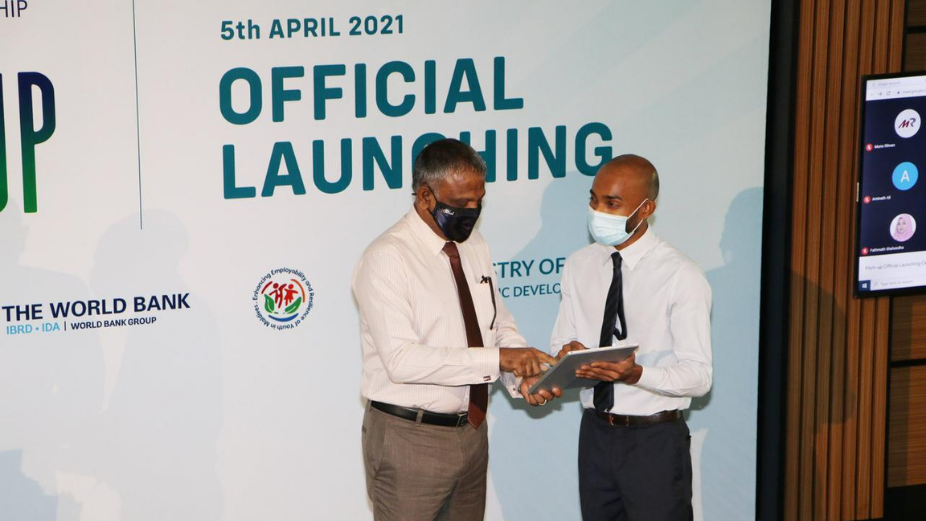 "PITCH-UP: YOUTH ENTREPRENEURSHIP CHALLENGE" by MEERY project was launched by the Minister of Higher Education, Dr. Ibrahim Hassan today.
"PITCH-UP: Youth Entrepreneurship Challenge" is open for Maldivian youth across the country, between 18 and 35 years of age. Participants can submit their business ideas as an individual or as a team of maximum 3 members. Ideas are accepted in the fields related to Tourism, Tourism related Construction, Agriculture and Information Communication technology. The objective is to create an opportunity for youth to pitch business ideas and promote entrepreneurial skills.
The aftermath of the COVID-19 pandemic caused unimaginable disruptions to the businesses, forcing entrepreneurs to reflect, reinvent and adapt to survive in the 'new normal'. In this context, "PITCH-UP: Youth Entrepreneurship Challenge" competition was launched today as a chance for entrepreneurial minded youth to win seed funding.
The winners will receive a grant amount of up to $40,000 depending on the financial need for the business proposed. During the first step of the application process, participants will submit their business ideas. Participants whose ideas get shortlisted will attend a boot camp training, after which they will be eligible to submit a full-fledged proposal. Participants will then get an opportunity to pitch their ideas to an independent evaluation panel consisting locals and international judges.
The competition will support participants via a business boot camp that will provide guidance and trainings to empower young entrepreneurs to create innovative, feasible, profitable and sustainable solutions to local problems. It is a golden opportunity and a great learning experience for youth interested in starting their own businesses.
Minister of Higher Education, Dr. Ibrahim Hassan stated, "We hope the "PITCH-UP: Youth Entrepreneurship Challenge' is a great opportunity for youth to develop a simple idea into a fruitful and successful business."
Ms. Aishath Shifana Wajyh, Owner and CEO of Heat Health & Fitness Gym attended the ceremony as a guest speaker, while Mr. Nasrulla Adnan, Co-founder & CTO at Lottiefiles joined virtually.
Maldives: Enhancing Employability and Resilience of Youth (MEERY) Project jointly implemented by the Ministry of Higher Education and the Ministry of Economic Development. This $20-million-dollar project financed by the World Bank was launched in September 2019.
The project's primary development objective is to promote youth employment by improving the relevance of technical vocational education, and entrepreneurship skills development in priority sectors, including tourism, tourism-related construction, ICT, and agriculture.
More information about the "PITCH-UP: Youth Entrepreneurship Challenge" will be publicly available via MEERY project website and social media platforms.