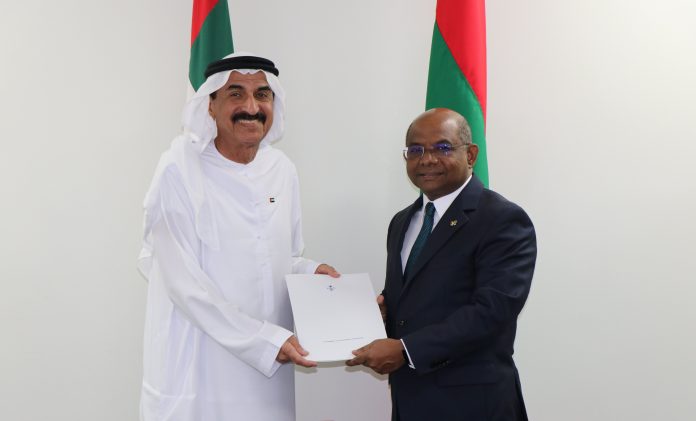 The Ministry of Foreign Affairs has allocated a plot of land in capital city, Male's suburban extension Hulhumale' to build the new United Arab Emirates (UAE) embassy.
The plot was handed over at a special ceremony held at Ministry of Foreign Affairs on 17th December by Minister of Foreign Affairs, Abdulla Shahid to the Ambassador–Designate of the United Arab Emirates to the Maldives, Dr. Saeed Mohamed Ali Al Shamsi.
Foreign Minister, Abdulla Shahid said that the plot has been allocated from the Diplomatic Enclave in Hulhumale' where embassies and missionaries will be established in the future in order to maintain the security standards.
"The decision to move the embassies to the capital's suburbs followed the congestion in Malé. Plots are to be allocated under the procedure mandated by the government, once countries request for them and they will all be allocated in the Diplomatic Enclave," the Minister noted.
UAE is the fifth country that has been allocated a plot in the Diplomatic Enclave in Hulhumale'. The ministry has also handed over plots to build embassies from China, Bangladesh, India and Sri Lanka.