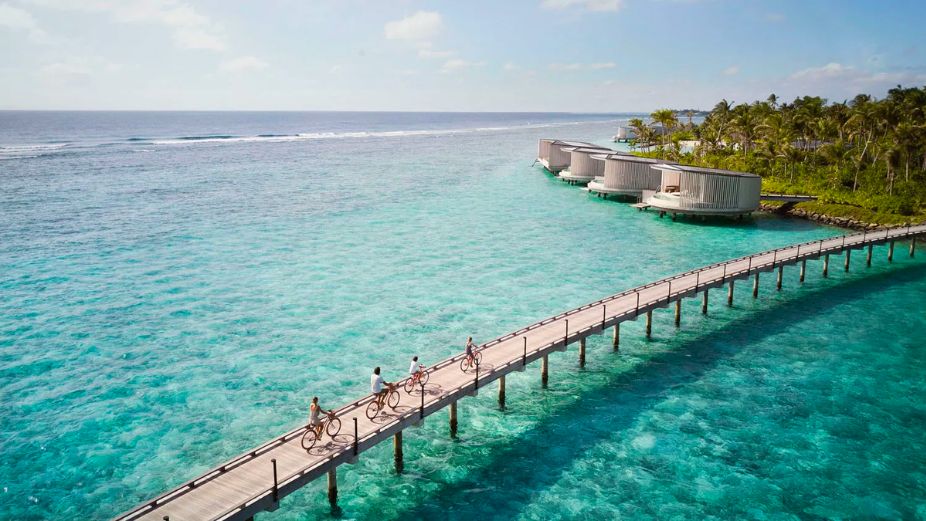 Singapore-based developer and investor in luxury hospitality projects, Pontiac Land, has secured a $120 million green loan from DBS Bank to fund the development of its latest project, the Fari Islands. The green loans cover two resorts — Patina Maldives, Fari Islands and The Ritz-Carlton Maldives, Fari Islands.
Pontiac Land obtained its inaugural green loan, with the support of DBS, HSBC, and UOB as Green Structuring Banks. This event also signifies the first green loan for DBS and UOB in the Maldives and the first for HSBC in the Maldives' hotel industry. This momentous achievement confirms Pontiac Land's dedication to constructing a more environmentally-friendly future that will benefit future generations.
The conversion of the loan became feasible after achieving the EDGE (Excellence in Design for Greater Efficiencies) Advanced Certifications, which demonstrates that the resort is prepared for zero carbon emissions. In a departure from the conventional thatched roof structures prevalent in the Maldives, the villas and other amenities at Fari Islands have flat roofs, enabling the instalment of solar panels. Some of the amenities at Fari Islands have now become 100% solar-powered. Pontiac is exploring more renewable energy solutions.
Guests at the resort can also participate in marine conservation and sustainability through partnerships and creative guest programming aimed at coral propagation, turtle rehabilitation, ecological research, and the reuse of marine plastic. The resort's organic permaculture garden grows pesticide-free produce while turning food waste into organic fertilisers using bio-digesters. Fari Islands houses Roots, a signature plant-based restaurant that operates on a root-to-leaf principle and encourages guests to adopt a more conscious lifestyle.
Pontiac Land's latest project in the Maldives sets a benchmark for sustainable development in the hospitality industry, highlighting the growing trend among investors and developers to prioritize sustainability. With a commitment to responsible development and green finance initiatives, Pontiac Land and DBS Bank demonstrate the power of sustainable business practices to create meaningful impact while still delivering a world-class luxury guest experience.