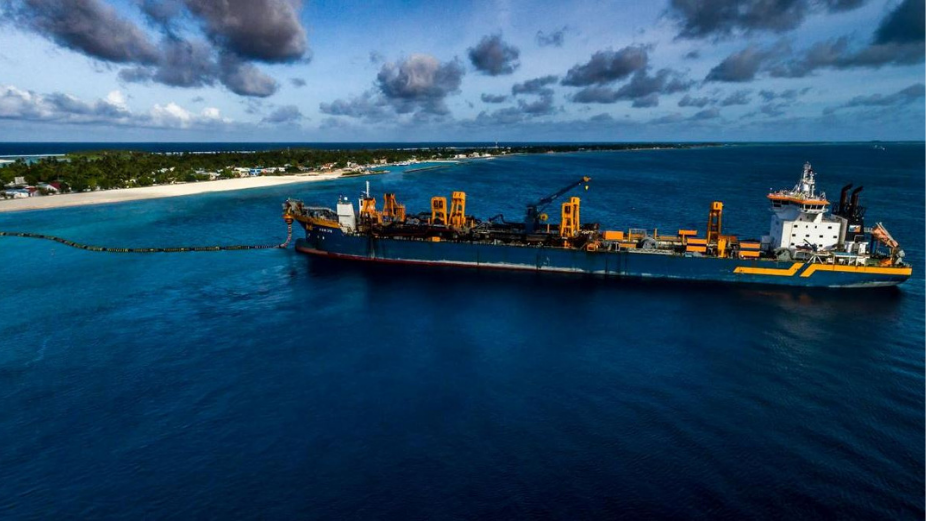 Van Oord, a Dutch family-owned international marine contractor has been contracted to reclaim and create 194 hectares of land in Addu City, Maldives.
The works are part of the Addu Development Project, meant to address climate change and to transform Addu City into a fully functional, thriving economic hub and an attractive tourist destination. The company was contracted by the Ministry of National Planning, Housing and Infrastructure of the Government of Maldives.
Addu City is located in the Maldives and consists of the inhabited islands of the southernmost atoll of the Maldives, Addu Atoll. It is home to 20,000 people divided between six islands surrounding a lagoon.
The Addu Development Project is the government's plan to stimulate the economy and tackle high unemployment by increasing economic and employment opportunities in the region. The project is in line with the government's aim of addressing climate change and environmental protection, promoting decentralisation and enhancing connectivity to relieve population congestion and reduce travel time and distance between jobs, services and homes.
Land will be reclaimed along the coasts of the islands Hithadhoo and Maradhoo/Maradhoo-Feydhoo. In addition, three new islands will be created in the city's lagoon. Trailing suction hopper dredger HAM 318 will be deployed for the reclamation works and will source sand from two designated areas in the lagoon.
Preparations have been commenced immediately and the project is expected to be completed within 18 months.
Coastal protection is part of the contract and Van Oord will install 11 kilometres of shore protection using rock and at some locations geotextile tubes. The geotextile tubes are elongated bags made of specially developed geotextile fabric filled with sand. They have proven to be effective in a variety of other climate adaptation projects around the world involving the construction of dams. The method is sustainable because it reduces the use of primary building materials such as rock and sand and therefore also reduces the fossil fuel emissions caused by transport.
Addu Atoll has a wide variety of valuable ecosystems. Protection of the environment is a key concern for Van Oord and environmental management will be integrated into all project activities. The company is currently investigating the most sustainable approach to project execution based on the best practices of other projects. Part of the project scope is also the relocation of coral and the company will work with local stakeholders to move coral and associated species from the reclamation area prior to project execution.
Niels de Bruin, Director Dredging of Van Oord: 'We have collaborated with local and other coral specialists worldwide on the relocation of coral and associated flora and fauna prior to coastal construction work, for example at the Himmafushi Atoll in the Maldives in 2016. We are keen to extend our coral relocation and rehabilitation track record.'
Van Oord has executed several projects in the Maldives. In 2017 it received the DPC Innovation Award for its innovative and sustainable approach to a land reclamation project near the capital Male. The project contributed to the region's economic and social development