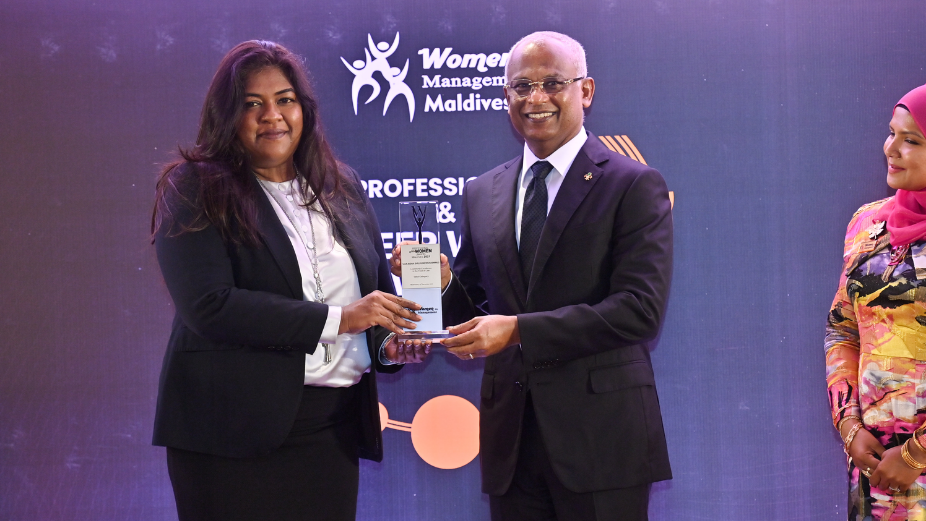 President Ibrahim Mohamed Solih and First Lady Fazna Ahmed have attended the Professional and Career Women Awards 2021 ceremony, held at Hotel Jen on Wednesday evening.
Speaking at the function, the President stated the administration's Gender Equality Action Plan, part of its "National Resilience and Recovery Plan (NRR) 2020–2022," intends to ensure gender equality by increasing women's ability to participate equally in all state and national-level engagements and promoting the economic empowerment of women.
President Solih stressed that the Covid-19 pandemic impeded the implementation of the administration's Strategic Action Plan (SAP), which the administration reprioritised into the two-year NRR, inclusive of the top priority deliverables. As the President stated, the delivery of the Gender Equality Action Plan would ensure equality between men and women in leadership, economic activities, justice, and social well-being.
The President went on to highlight that abolishing inequalities and ensuring equal opportunities for women on the political and social fronts are important pledges of his administration. He underscored that the administration has made significant progress in this endeavour over the past years and spoke about the importance of embracing the voices, opinions, and insights of women in decision-making.
At tonight's function, the President and the First Lady presented the Professional and Career Women Awards 2021 to the recipients. Women in Management Maldives (WIM) offers inspiration and leadership to women in the development of knowledge and skills, and serves as a conduit for the change of women's roles in careers and enterprises.