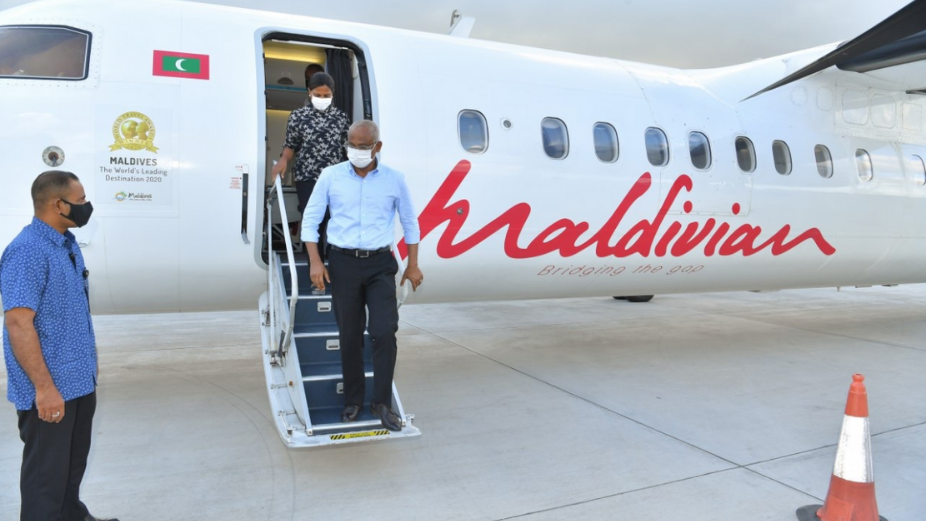 President Ibrahim Mohamed Solih and First Lady Fazna Ahmed have arrived in Malé this evening after concluding their three-day trip to Kulhudhuffushi City, Kumundhoo Island and Hanimaadhoo Island in South Thiladhunmathi Atoll.
The President and the First Lady visited Kulhudhuffushi City first, the Maldives' northernmost city. Their programme for the city included touring landmarks and meeting the city's leaders. Multiple discussion sessions took place including a meeting between the President and the South Thiladhunmathi Atoll Council, the Kulhudhuffushi City Council, the Women's Development Committee (WDC), heads of educational institutions and of Kulhudhuffushi Regional Hospital and Senior Officers at Kulhudhuffushi Police station. First Lady Fazna Ahmed also held various meetings with Kulhudhuffushi city stakeholders during the visit, including the members of the Kulhudhuffushi WDC.
President Solih and the First Lady next visited Kumundhoo Island, where the President met with members of the Kumundhoo Island Council and the island's WDC. The first couple also toured several areas in Kumundhoo Island.
The last stop of the three-day visit to Haa Dhaalu Atoll was at Hanimaadhoo Island, where President Solih held discussions with several stakeholders, including members of the Hanimaadhoo Island Council and the WDC. The President also inaugurated the construction phase of the road development project on the island and examined the progress of ongoing government projects. First Lady Fazna Ahmed also met with the Hanimaadhoo WDC before concluding the trip.
Cabinet Ministers, along with senior government officials, accompanied the President and the First Lady on this trip.