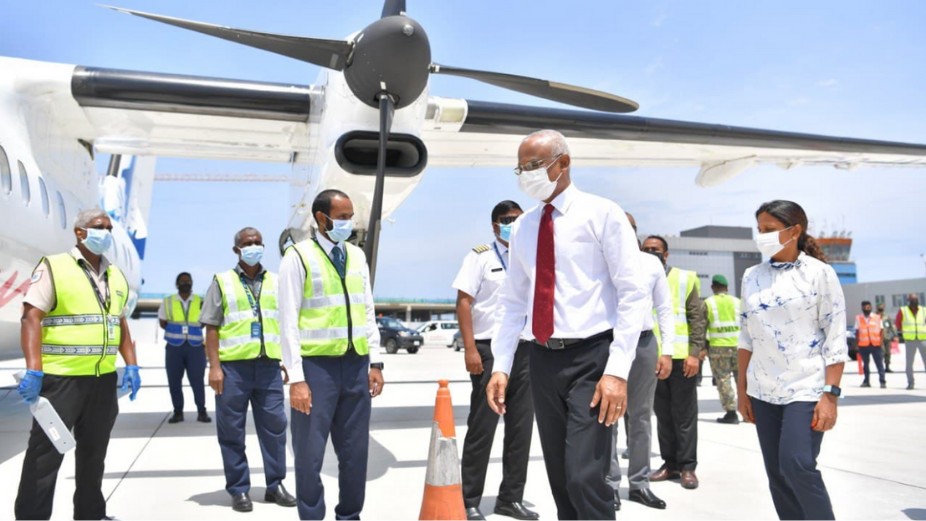 President Ibrahim Mohamed Solih and First Lady Fazna Ahmed have, late yesterday morning, departed on a trip to the North Miladhunmadulu (Shaviyani) Atoll and North Maalhosmadulu (Raa) Atoll. The President and First Lady will be traveling to 4 islands of Shaviyani Atoll and 4 islands of Raa Atoll during this three-day trip.
President Solih and First Lady Fazna will visit Funadhoo Island, Lhaimagu Island, Foakaidhoo Island and Maaungoodhoo Island of Shaviyani Atoll, and then Vaadhoo Island, Alifushi Island, Rasgetheemu Island and Angolhitheemu Island of Raa Atoll.
During this trip, the President is scheduled to hold discussions with key stakeholders from each island, including the elected officials of the Atoll Councils, Island Councils and Women's Development Committees (WDCs) and stakeholders from important local communities such as fishing and farming sectors.
The First Lady is scheduled to visit and meet with stakeholders in the educational and social services sectors. The First Couple would further tour important landmarks and inspect the progress of ongoing development projects and government-initiated programmes on the islands.
President Solih is also scheduled to officially inaugurate the Job Centre established in Raa Alifushi Island by the Ministry of Economic Development.
The President and First Lady are scheduled to conclude this trip and return to Malé City on Thursday night this week.