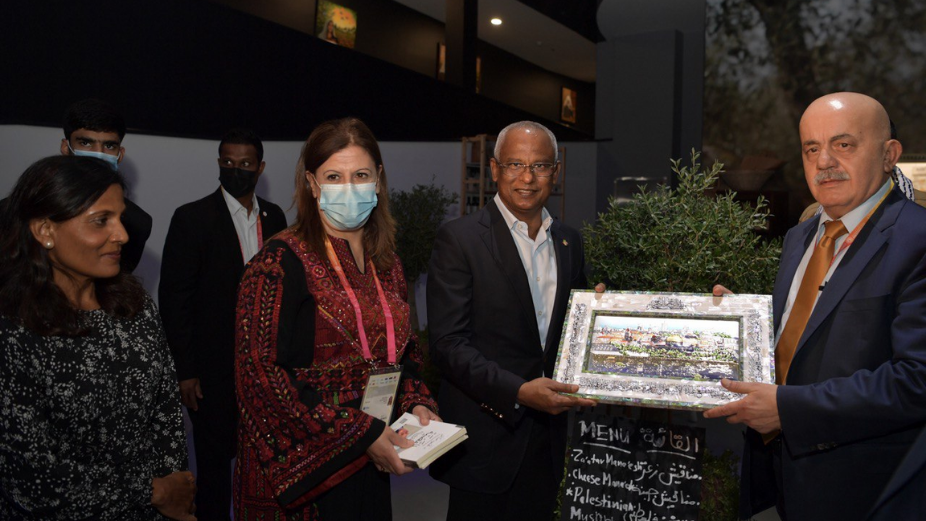 President Ibrahim Mohamed Solih and First Lady Fazna Ahmed explored Dubai Expo 2020. They visited and toured the Palestine Pavilion and Saudi Arabia's Pavilion at the expo last night.
Ali M. Younis, Ambassador, Chargé d'affaires of the Consulate General of the State of Palestinians in Dubai received the President and First Lady at the Palestine Pavilion. The Pavilion offers a visitor experience with an immersive sensory exploration of Palestine and its people that aims to shift international perceptions and demonstrate a fresh and vibrant perspective.
Saudi Arabia's Pavilion is the second largest Pavilion at Expo 2020 Dubai after the UAE Pavilion with a total area of 13,059 square meters. It is located in the Opportunity District. The structure's creative façade represents the Kingdom's unlimited drive, as well as its welcoming character and deep-rooted culture.
The theme of Expo 2020 Dubai is 'Connecting Minds and Creating the Future', focusing on sustainability, innovation and cooperation from around the world. There are over 192 nations from across the world participating in the 6-month event.
President Solih and First Lady Fazna Ahmed are currently on an official visit to UAE to attend Expo 2020 in Dubai. A high-level Maldivian delegation accompanies them on this visit.