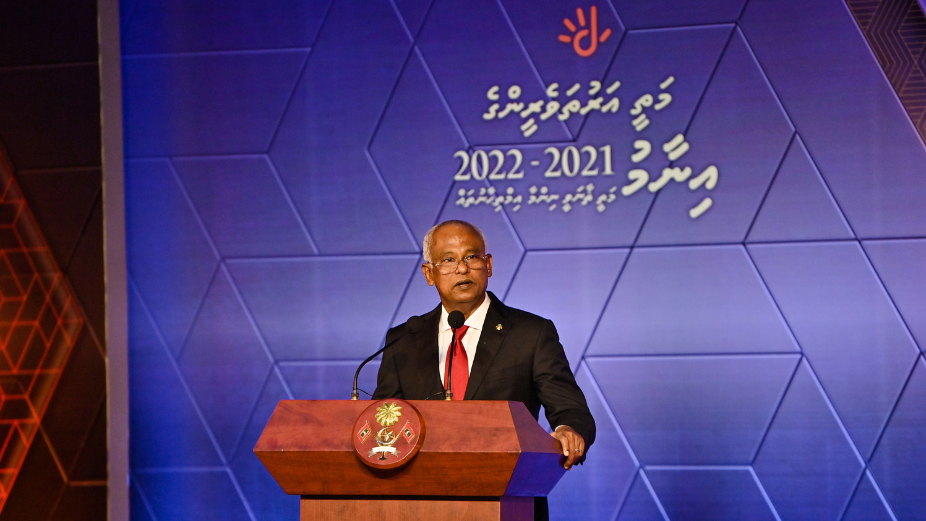 President Ibrahim Mohamed Solih announced that his administration will offer student loans to 1,225 students who meet the eligibility criteria. The announcement was made during the prestigious Top Achievers Award 2021-2022 ceremony, where students with the highest scores in the higher secondary examinations were honoured. President Solih was accompanied by First Lady Fazna Ahmed and Vice President Faisal Naseem at the event held at the Dharubaaruge convention centre.
In his speech, President Solih highlighted the advancements made in the administration's loan allocation process for individuals pursuing higher education within the Maldives and abroad. He emphasized the administration's commitment to providing higher education opportunities as a top priority for developing responsible and productive citizens and youth.
The president also expressed the administration's intention to extend loan offers to 1,225 eligible students. He assured that the administration would address any issues faced by eligible students in securing loans and ensure they can benefit from the student loan program. Additional details about the initiative will be released by the Ministry of Higher Education in the near future.
President Solih further emphasized the administration's dedication to offering skill development opportunities to youth, recognizing their crucial role in national development. He mentioned the National Apprenticeship Programme (NAP), which has already provided such opportunities to 665 young individuals.
President Solih congratulated the students on their remarkable achievements in completing their higher secondary examinations, despite the challenges posed by the COVID-19 pandemic. He highlighted their accomplishments as a source of hope for the country's future and reaffirmed the administration's commitment to providing various higher education opportunities to support students' educational aspirations.
During the ceremony, President Solih presented awards to the students who secured first-place positions in the higher secondary examinations. First Lady Fazna Ahmed presented awards to the students who attained second place, while Vice President Faisal Naseem recognized top achievers in different subject categories, commending their outstanding performance within the national and global rankings.
Out of the 2,849 candidates who participated in the higher secondary examinations last year, 445 students achieved positions within the national top 10 rankings. Among them, 20 students secured top 10 rankings globally across various subject categories, with six students attaining first place worldwide.