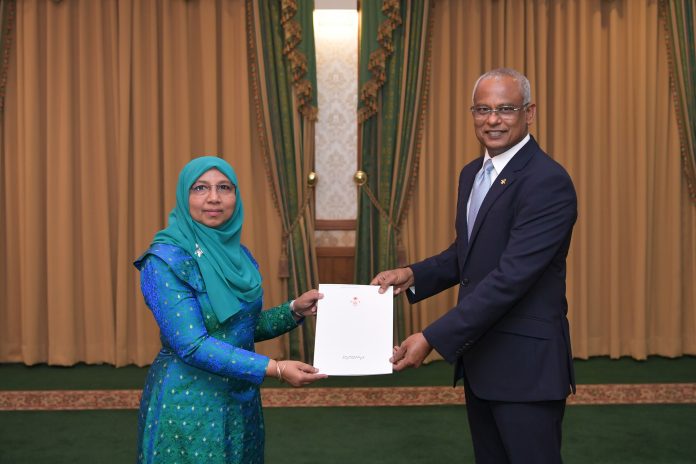 President Ibrahim Mohamed Solih has appointed Ms Aishath Mohamed Didi as Minister of Gender, Family and Social Services. The President presented her with the letter of appointment at a ceremony held this afternoon at the President's Office.
Ms Aishath Mohamed Didi undertook the oath of a cabinet member in front of the President while the Supreme Court Justice Honorable Uz Husnu Al Suood administered the oath.
Prior to this appointment, Ms Aishath Mohamed Didi was serving as the Ambassador (High Commissioner) appointed to India from the Maldives. She has also previously served as Minister of Gender and Family between 2005 and 2008, and has served civil and public affairs for a long period of time. Her experience includes freelance consultancy for Education and Child/Women's Rights, Chairperson of Gender Equality Council, Chairperson of Children's Home Governing Board, Chairperson of the Council for the Rights of the Child, Member of UN Task Force on Youth and Adolescents and Member of UN Task Force on Gender.
Ms Aishath Mohamed Didi completed Master of Arts from the Institute of Education, University of London. She also completed Bachelor of Arts and Diploma in Teaching from American University of Beirut.