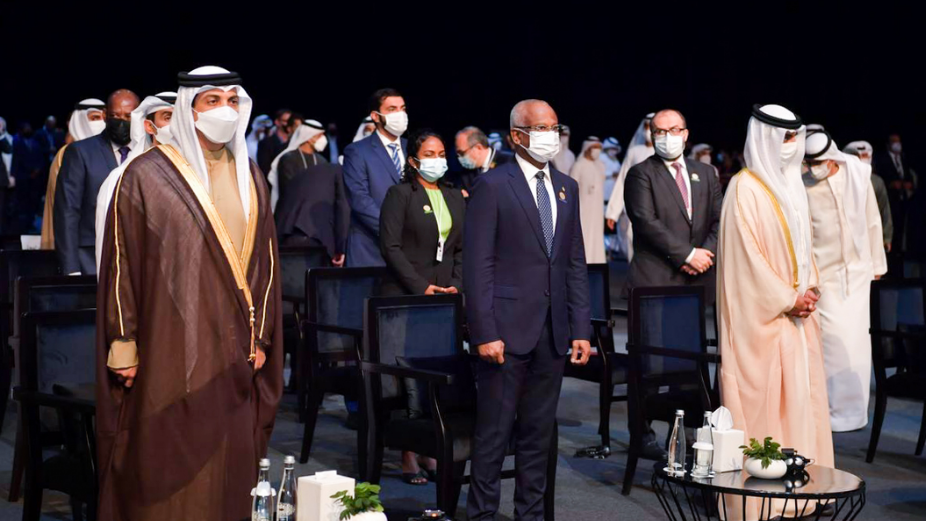 President Ibrahim Mohamed Solih on Monday visited Expo Dubai, where he attended the opening ceremony of the Abu Dhabi Sustainability Week (ADSW) and the presentation of the Zayed Sustainability Prize.
President Solih's visit to Dubai, United Arab Emirates (UAE), is at the invitation of His Highness Sheikh Mohamed bin Zayed Al Nahyan, Crown Prince of the Emirate of Abu Dhabi and Deputy Supreme Commander of the United Arab Emirates Armed Forces.
The Abu Dhabi Sustainability Week kicked off with a ceremony at the Dubai Exhibition Centre, followed by the conferral of the Zayed Sustainability Prizes. The ADSW is one of the world's significant sustainability events, and aims to improve awareness of social, economic, and technical developments. This year, the ADSW is based on the conclusions of COP26, reassessing the roadmaps needed to achieve the binding objectives required to combat climate change.
The Zayed Sustainability Prize is the UAE's pioneering global award in sustainability and a tribute to the legacy of the founding father of the UAE, the late Sheikh Zayed bin Sultan Al Nahyan. President Solih is accompanied on his visit to Dubai by a high-level government delegation.