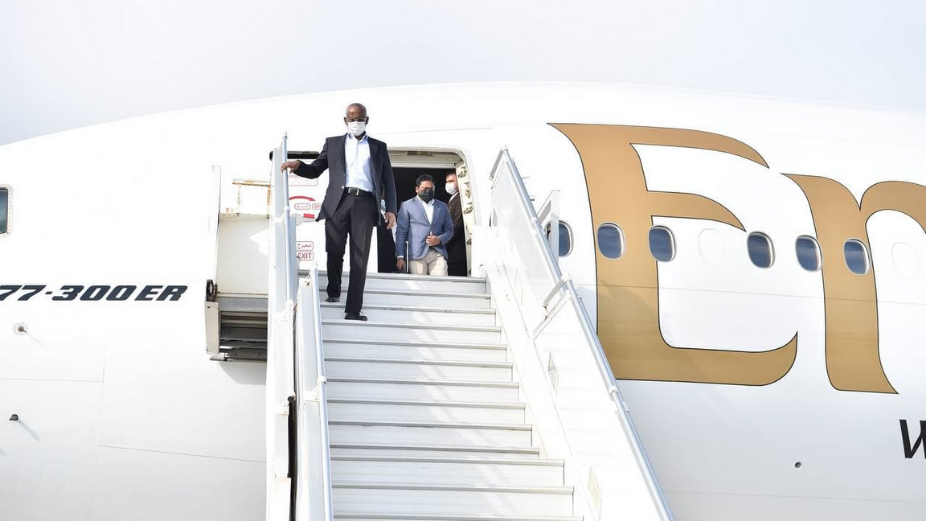 H.E President Ibrahim Mohamed Solih has concluded his trip to Glasgow, Scotland to attend the 2021 United Nations Climate Change Conference of the Parties (COP26). The President was accompanied on the trip by a delegation of high-level officials including the Speaker of the Parliament and former President, H.E President Mohamed Nasheed.
During the trip, President Solih participated in several high-level deliberations and advocated for major carbon emitters to take responsibility and to scale up their climate finance contributions. He also appointed H.E. Prince Zeid Ra'ad Zeid Al Hussein, a former United Nations High Commissioner for Human Rights, as an advisor to the Maldives delegation at COP26.
While delivering the National Statement at the COP26 World Leaders Summit, President Solih asked world leaders what it would take for them to listen to the Maldives regarding the harsh realities of climate change.
"Our islands are slowly being inundated by the sea, one by one," he said, citing several trips that he made to different islands of the Maldives over the past month. President Solih stated that all islands he visited had reported severe erosion – only one of numerous dire consequences of climate change influencing the daily lives of Maldivians already.
The President met with world leaders and high-level delegates during this trip. He participated in the Climate Vulnerable Forum (CVF) – Commonwealth High-Level Panel Discussion, the high-level launching of the Energy Transition Accelerator Financing platform (ETAF) by the International Renewable Energy Agency (IRENA), the Roundtable Discussion on Understanding Island Climate and the Commonwealth Leaders at the World Leaders' Summit, on the margins of COP26.
President Solih's participation in COP26 marks the first time that a Maldivian state leader has attended and taken part in a climate change conference in the past 12 years.
Following the conclusion of his activities at COP26, President Solih also travelled to London and visited World Travel Market (WTM) 2021 London, the leading global event for the travel and tourism industry.