President Ibrahim Mohamed Solih has presented the Order of the Distinguished Rule of Izzuddin to Ahmed Adam from H. Hikari; and Abdulla Sodiq of H. Aamuleege.
The two honorees were presented with the laurels at the special ceremony held to mark this year's National Day. The function was held on 28th October at Dharubaaruge.
Ahmed Adam started his service in the Government on 1st February 1959, and since then, his contributions had been instrumental to national development in the field of engineering. He joined the service as an Apprentice Engineer on the ship 'Morning Star.'
After attaining higher education in the field of engineering in Sri Lanka and the United Kingdom, Ahmed Adam continued in his service to the nation in various areas; he made notable contributions to developing electricity services, television broadcasting services, boatbuilding, mechanization of boats, and promoting technical training through the establishment of the Vocational Training Centre.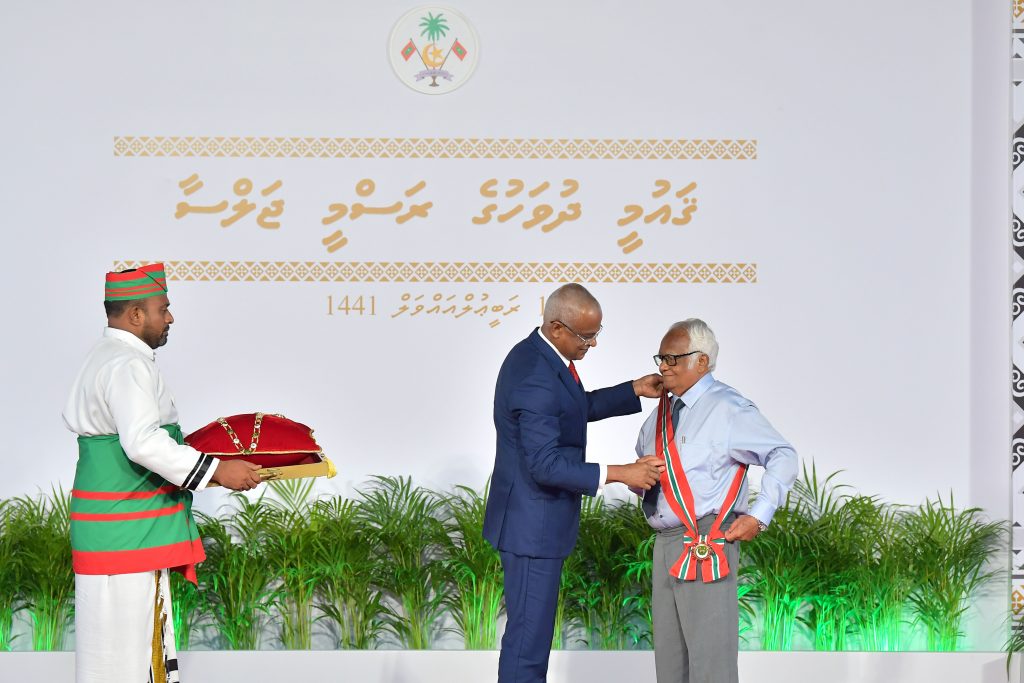 While he also served in high ranking positions at the Ministry of Fisheries, Maldives Shipping Limited and Maldives Transport and Contracting Company (MTCC), Ahmed Adam's work in the introduction and development of the tourism sector is also highly remarkable. He was the very first manager of Bandos Maldives.
Abdulla Sodiq has been in the service of the Government for the past 55 years and continues his contributions as a Consultant at the Dhivehi Bahuge Academy. His work in the fields of literature, linguistics, and education is astounding.
He started his career in the Government on 29th May 1952 as a clerk at the printing press. In addition to his immense contributions in the fields of literature and linguistics, Abdulla Sodiq is also an outstanding litterateur; his numerous written works include stories and Urdu to Dhivehi translations.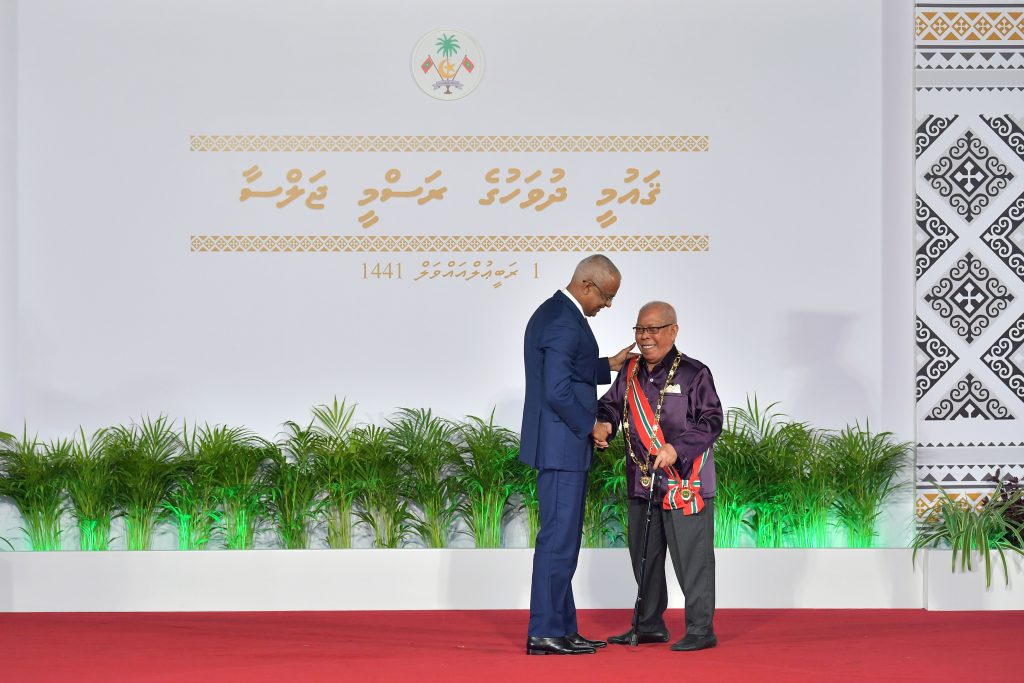 He also published numerous literacy works on the usage guidelines of the Dhivehi Language, and poetry and lyrics. Abdulla Sodiq is also noted for his contributions in the field of historical research, teaching, and tutoring—he had taught at nearly every school in Malé at the time. He served longest in the Government at the then Centre for Linguistic and Historical Research—he has been in service of the center for the past 30 years.