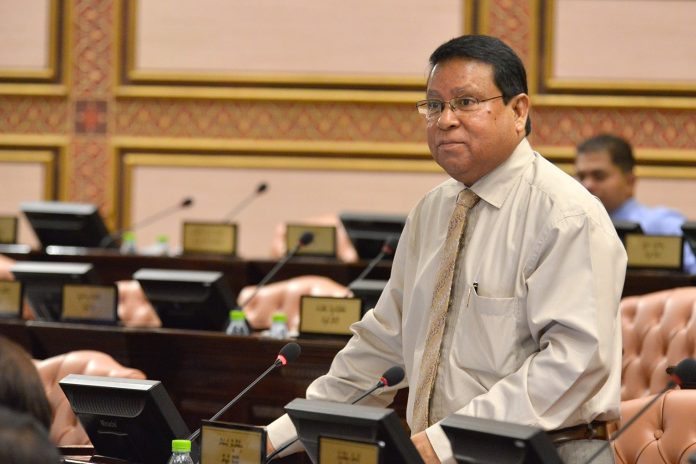 President Ibrahim Mohamed Solih has conveyed his sincere condolences to the family of the late Hussain Mohamed upon his passing. Hussain Mohamed passed away at the age of 71, while undergoing treatment at Tree Top Hospital.
In his message, the President expressed deep sorrow upon learning about the loss of a close friend and recollected fond memories of their work together at the Parliament. Acknowledging that Hussain Mohamed had extended invaluable services to the nation, he expressed his sympathy to the family in their time of grief and offered his prayers that Allah (SWT) grant eternal Jannat to their beloved family member.
The late Hussain Mohamed served three consecutive terms at the Parliament. He served as the Parliament member for Alifu Alifu Atoll constituency between 2005 and 2009 and as the Parliament member for Mathiveri constituency from 2009 to 2019.
During his lifetime, Hussain Mohamed served the Government for more than 28 years in various capacities, including several senior positions. These included the positions of Director General, Deputy Director General, Assistant Executive Director and the Executive Director of Television Maldives.
The late Hussain Mohamed started his government career as a Meteorological Observer at the Airport Office on 11 September 1972. He then worked on translating foreign news to the local language and specialized in international news research, and curating news articles for the local audience. He worked at the newsroom of the Department of Information and Broadcasting and Dhivehi Raajjeyge Adu working news translations. He later joined Dhivehi Raajjeyge Thauleemu Kuriaruvaa Marukazu (Maldives Education Development Centre) as the Assistant Director, where he devised several programmes for the development of the education sector of the country. He last served as the Deputy Minister for Education, before leaving the Government on 6th August 2008.
Hussain Mohamed was a recipient of the Noosverikamuge Alimas Galan (pen commemorating 75 years of Journalism) for his invaluable services to journalism throughout his career.