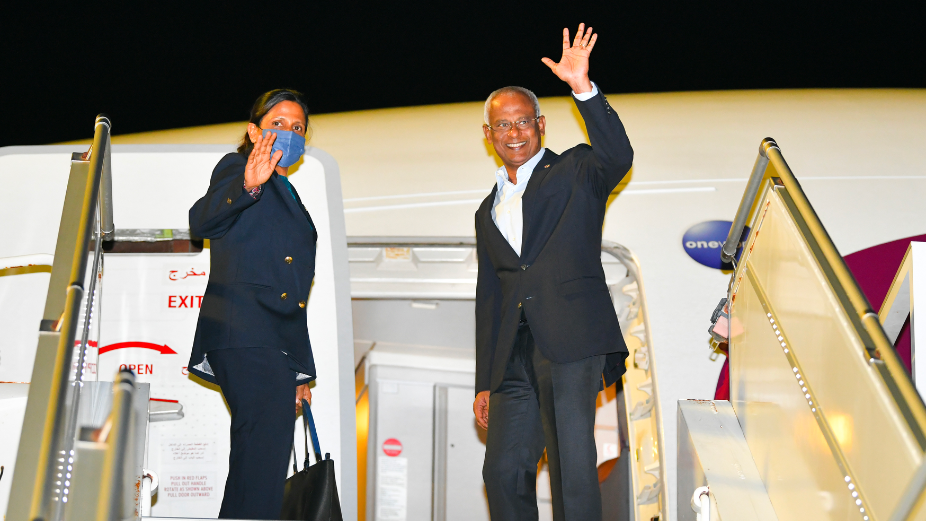 President Ibrahim Mohamed Solih, on Wednesday evening, departed on an official visit to the Republic of Rwanda. First Lady Fazna Ahmed and a high-level delegation are accompanying him on this visit.
In Rwanda, President Solih would attend his first Commonwealth Heads of Government Meeting (CHOGM) held since the Maldives' re-accession to the Commonwealth of Nations on February 1, 2020. CHOGM 2022 will be held from June 20-25, 2022, in Kigali, Rwanda.
The visit signifies his administration's commitment to engage with the international community, especially with the Commonwealth Member States, in promoting democracy, human rights, good governance, multilateralism, and world peace. Through such multilateral forums, the administration seeks to engage in exchange of expertise and assistance in regard to building inclusive, resilient, and environmentally conscious communities.
On the sidelines of the meeting, the President would hold bilateral meetings with other world leaders in order to strengthen the Maldives' role in the international community, advance its shared interests, and contribute to the resolution of global issues.