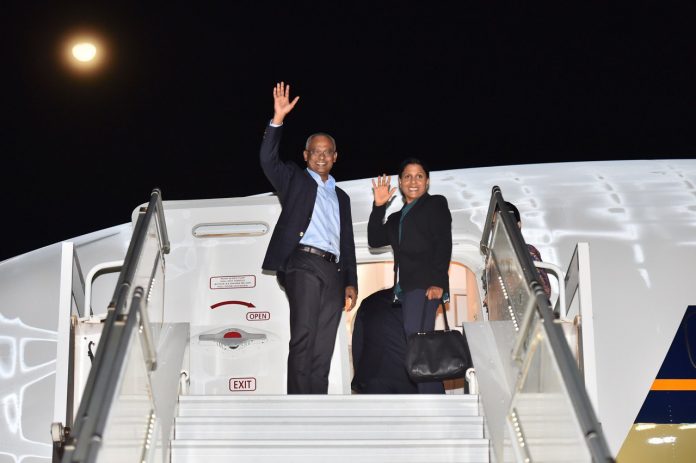 President Ibrahim Mohamed Solih has departed on an official visit to Japan, to foster the bilateral ties that exist between the two countries. During the visit from 20-26 October, President Solih would attend the Enthronement Ceremony of His Majesty Emperor Naruhito of Japan and hold talks with officials of the Japanese Government focused on further strengthening cooperation between the two countries in various avenues. He is accompanied during the visit, at the invitation of the Japanese Government, by First Lady Fazna Ahmed.
The Maldives and Japan established diplomatic relations on 14 November 1967 and has since been an important development partner for the Maldives. Japan's aid and support have been crucial to addressing vulnerabilities and assisting sustainable economic development of the Maldives, fostering local industries, addressing the adverse impacts of climate change and environmental issues and managing disasters. The official visit to Japan by President Solih is set to open new avenues for cooperation between the two friendly nations.
The bond between the two nations can be perceived in the various ways Japan aided the Maldives; in the form of food aid; provision of industrial products required for the mechanisation of boats, development of the seawall around Malé, coastal fisheries promotion, electrification projects in numerous islands, construction and renovation of multiple schools across the country, cultural aid grants, assistance to tsunami reconstruction project, and clean energy promotion in Malé with the installation of solar panels in Government buildings.
Japanese non-project grants to the Maldives include the provision of equipment for the education and health sectors, Japanese disaster reduction equipment and grant aid to enhance public security efforts.
Maldives and Japan also recently signed an Exchange of Notes on December 2018, under which Japan would extend grant assistance of MVR42.19 million (¥300 million) to the Maldives to further promote economic and social development; the grant would be utilised to procure related equipment and material for oil spill prevention. Earlier in June 2019, the two countries also signed an MVR70 million (¥500 million) aid agreement where the grant would be utilised for the provision of a fireboat and a landing craft.