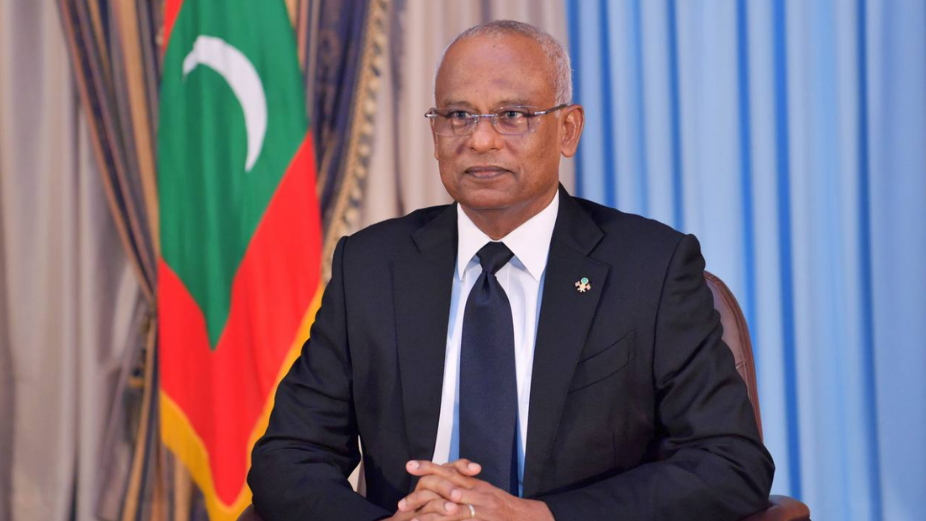 President Ibrahim Mohamed Solih on Monday participated virtually in the Asia Regional Commonwealth Heads of Government roundtable, initiated by His Royal Highness The Princes of Wales, to ensure that countries who pledged climate financing uphold their commitments to assist small island states in tackling climate change. He also called on all nations to scale up their climate ambitions to secure global mean temperatures at a stable 1.5 degrees.
Heads of Government of Singapore, Bangladesh, Malaysia and Srilanka participated in this event.
In his address, President Solih stated that support in the form of clean technology investments and strengthened capacity is required in order to realise the Maldives' goals to counter the adverse effects of climate change. He emphasized the importance of securing finances to drive these changes and requested the participants of the roundtable to advocate for this at the COP26 summit scheduled to be held in Glasgow, Scotland in November 2021.
Reflecting on Maldives' development plans following the Covid-19 pandemic, President Solih noted how the Maldivian economy is closely intertwined with the ocean. The President stated that it is paramount that we are able to protect the resources we have and rebuild our economies in a more circular and sustainable manner. Resilience and adaptation are key pillars in Maldives' climate plans, he added.
President Solih also highlighted steps taken by his administration towards transforming Maldives' development approach towards greener and more resilient pathways. He noted how the Maldives had ratified a Climate Emergency Act, which includes a framework for Maldives' ambitious plan to achieve net-zero carbon emissions by 2030. He further highlighted the Maldives' partnership with Blue Prosperity Coalition for maritime spatial planning and that designated protected areas had been established in every atoll in the nation.
Today's meeting concludes part of a series of regional Commonwealth Roundtables where His Royal Highness has engaged with Commonwealth Heads of Governments on topics of economic recovery, climate change and sustainable investment opportunities. His Royal Highness' Roundtables are designed to help establish areas of joint Commonwealth action in the lead up to COP26.
This initiative was co-sponsored by the Government of the United Kingdom and the Government of Rwanda as incoming and outgoing Chairs-in-Office of the Commonwealth.