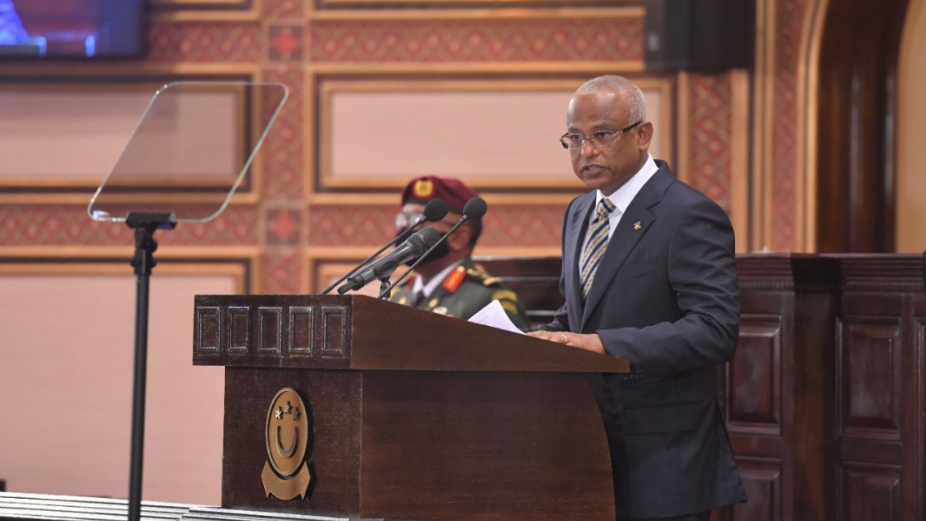 President Ibrahim Mohamed Solih delivered the Presidential Address at the opening of the People's Majlis for the year 2022 on Thursday. The Address was delivered this morning at 9 a.m. during the first session of the People's Majlis.
The President stated that the administration had fulfilled its pledge to establish a minimum wage in the country, which had already benefited workers in a variety of sectors. Speaking about the plan to promote decentralised governance, the President disclosed information on efforts to establish tertiary-level hospitals in five regions of the country. These efforts include the standardization of hospitals and the introduction of new services. The President said that these hospitals already offer a wide range of specialty services to the public.

Speaking about the government's vision for undertaking developmental projects, President Solih stated that these projects were designed to drive the economy by facilitating opportunities and to keep our livelihoods in check. He went on to highlight how the administration had eased transportation difficulties in 28 islands by completing harbour development projects and stated that an additional 134 harbour development projects are ongoing. In line with the administration's efforts to establish water and sewerage network projects in all inhabited islands of the Maldives, the government contracted parties to establish water and sewerage networks in all remaining islands late last year. Ongoing road development projects across the nation include 240 kilometres of roads in 17 islands and three cities.
In an effort to improve electricity services across the country, the government had increased power generation by twofold during its three years in office, doubling the total capacity recorded in the last 70 years combined. Underlining the importance of adopting sustainable energy sources, the President said that the output generated from renewable energy sources on 128 islands totalled 36.5 megawatts. The President expressed optimism about installing solar units in a thousand homes before the end of the year under its home solar programme.

The President also discussed the administration's accomplishments in other areas and provided an overview of the its efforts over the previous year.