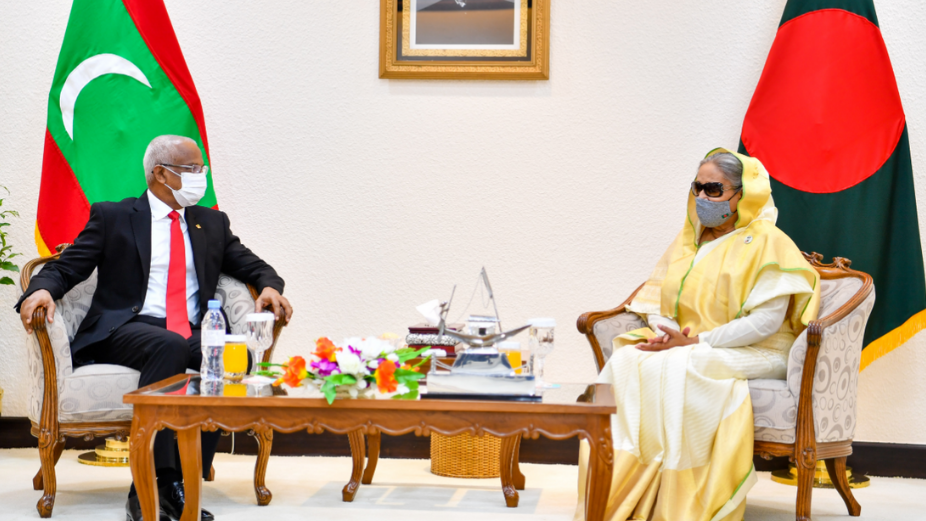 As part of his ongoing state visit to the People's Republic of Bangladesh, President Ibrahim Mohamed Solih has held bilateral discussions with the Prime Minister of Bangladesh, Sheikh Hasina, at the Prime Minister's office. President Solih shared his best wishes to all Bangladeshis as the country commemorates the birth centenary of Bangabandhu Sheikh Mujibur Rahman, the country's founding father. He also warmly congratulated them on the country's golden jubilee of independence.
The President lauded the outstanding diplomatic relations that characterise the two countries' bilateral relationship, strengthened through long-standing historical and cultural ties that bind Bangladesh and the Maldives. He expressed his confidence that his current visit to Bangladesh will help elevate that relationship to new heights.
Reciprocating the President's views, the Prime Minister stated that the Maldives is a trusted partner and friend to Bangladesh. She also announced that Biman Bangladesh Airlines flights to the Maldives would begin soon, bolstering air connectivity between the two republics.
President Solih welcomed the announcement of improved air connectivity. He affirmed that his government is committed to resolving the problems faced by Bangladeshi migrant workers in the Maldives and reiterated his government's pledge to uphold and protect migrant workers rights as part of the government's wider regularisation program.
Both leaders reviewed bilateral cooperation in various areas, including trade, health, higher education, human resource development, cultural cooperation, regional governance, fisheries, agriculture, tourism and international cooperation. The President and Prime Minister both shared their delight that the two governments had agreed on four Memorandums of Understanding (MoUs). They expressed their satisfaction that these MoUs, which the two governments will sign during this visit, will further progress collaboration.
The President and Prime Minister further addressed the importance of participating in the international fora to resolve shared large-scale issues such as climate change and regional security. Concluding the talks, the two leaders expressed their resolve to continue bilateral relationships on a positive trajectory.
Before the bilateral talks, President Solih and Prime Minister Sheikh Hasina held a one-to-one meeting at the Prime Minister's Office.