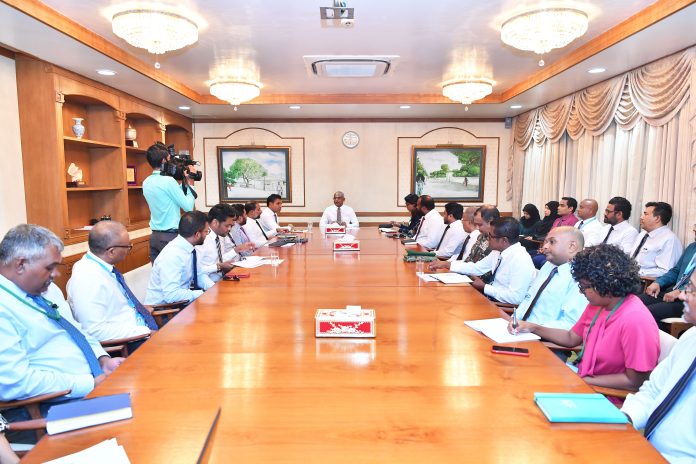 President Ibrahim Mohamed Solih has held discussions with stakeholders on further strengthening safeguards against Covid-19. The meeting was held at the President's Office.
President Solih inquired about the latest measures put in place by pertinent authorities and institutions in safeguarding Maldives and its people from the global epidemic. The President further questioned authorities on their capacity to implement more stringent safeguarding measures in the event of a possible outbreak in the Maldives.
Discussions further focussed on how best to maximise preventative measures by discussing strategies for possible local Covid-19 outbreak scenarios, taking real-life outbreak scenarios and internationally sanctioned preventative measures into account.
Following the international outbreak of the deadly virus Covid-19, President Ibrahim Mohamed Solih established a special taskforce comprising of government stakeholders and experts to expedite the implementation of precautionary measures and organise timely intervention. Since inception, the taskforce has been actively involved in the implementation of efforts to ensure efficient and effective safeguards and strategies including; precautionary border control at all ports of ingress, implemented to ensure multiple layers of screening of all persons entering the country; training of frontline staff working in the multi-agency operation; establishment of dedicated isolation facilities equipped with round-the-clock medical care and services; and perseverant campaigns to raise national awareness through dissemination of verified useful information regarding the virus.
Ending the meeting attended by ministers and heads of stakeholder agencies and leading experts, President Solih reiterated the importance of timely intervention and execution of precautionary measures. He urged to remain steady and vigilant in protecting the Maldivian people and recapitulated that the safety and well-being of Maldivian citizens, in the homeland and abroad, remains the government's highest priority.