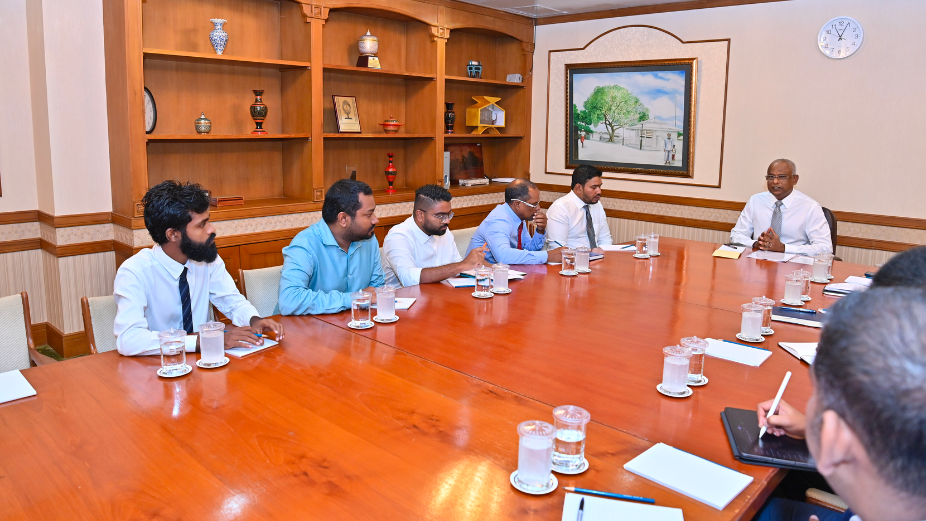 President Ibrahim Mohamed Solih on Sunday met with members of the Maldives Journalists Association (MJA) to hear their concerns about the recently ratified Evidence Act. The meeting took place at the President's Office yesterday morning.
The Attorney General, Ibrahim Riffath and senior officials from the President's Office attended the meeting.
The journalists shared with the President their views on the circumstances under which the identities of confidential sources and informants must be disclosed under the Evidence Act, as well as the need for certain terminologies to be clarified.
The President explained the need for such a requirement in the Evidence Act and assured them that the administration would not impede media freedom and would continue to support journalism as it had in previous years. The President emphasised that the administration is always working to ensure everyone's safety and harmony.
At the meeting, President Solih assured journalists that the government would consider their views and amend the Evidence Act to clearly define situations involving threats to national security, which may necessitate revealing journalistic sources. He also stated that the government intends on working closely with the media, adding that journalists would be consulted on the media bill, which is currently being drafted.
Attorney General Ibrahim Riffath noted that the Evidence Act stipulates a period of six months to commence implementation of the law. He also described the rights guaranteed to journalists, constitutional provisions and judicial safeguards, the circumstances under which a ruling for the disclosure of an informant can be made, and the procedures by which a judge makes such a ruling. The Attorney General noted that the component on the disclosure of an identity of an informant was drafted to the extent demonstrably justified in free and democratic society and within the ambit of international best practices and international conventions.
The President ratified the Evidence Act (Act No. 11/2022) on July 18, 2022.