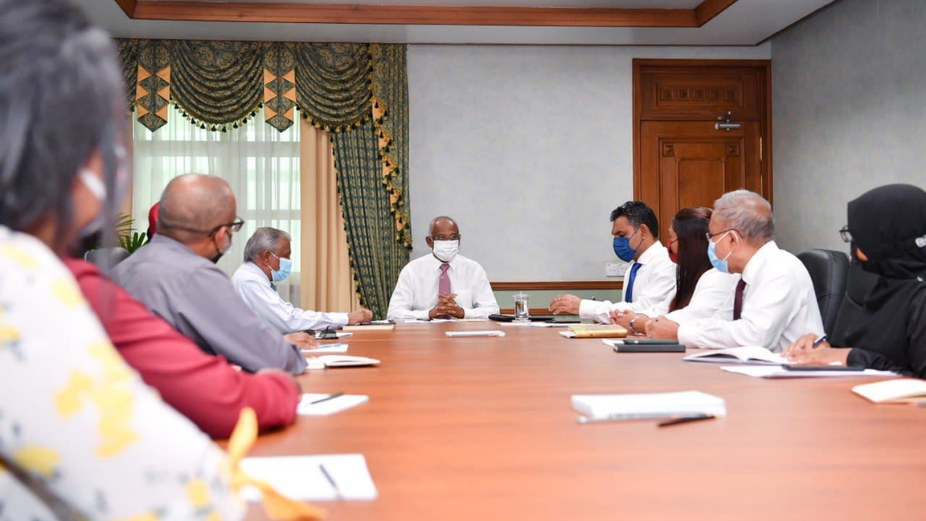 President Ibrahim Mohamed Solih on Tuesday met with the Education Sector Research Group, constituted to identify issues faced by teachers in the education sector. Vice President Faisal Naseem, Minister of Education Dr Aishath Ali, and the Special Advisor on Social Policy at the President's Office, Dr Mustafa Lutfi, accompanied the President.
At the meeting, President Solih spoke on the importance of conducting research into the education sector, highlighting that it would assist in identifying the reasons behind a lack of interest in pursuing careers in the sector. He also noted that the research would aid in reform efforts focused on improving the quality of education, capacity building in teachers, wage increments, and addressing issues of undue influence in schools. The President also expressed his confidence that the research group would conduct a thorough study.
Speaking at the meeting, the Vice President highlighted that the study would contribute to the improvement of the education sector by identifying pertinent issues outside of the main objectives of the study.
The six-member Education Sector Research Group is made up of experts in the fields of education policy and planning, human resources, sociology, training, and finance. Sharing the progress of its research with the President, the members of the group noted that their research proposal had now been approved and data collection work was currently in progress. They added that the research sample had been identified, interviews with focus groups are underway, and survey questionnaires for teachers are being formed.
Speaking at the ceremony held to present awards and certificates to the top achievers of 2019, President Solih highlighted the need for academic research on issues in the education sector.