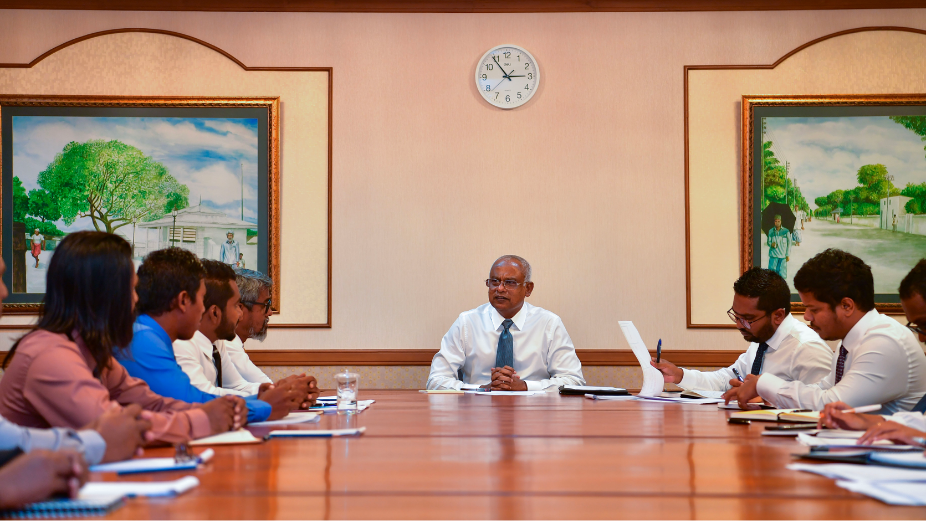 President Ibrahim Mohamed Solih met on Sunday with the Island Council and Women's Development Committee (WDC) members of Kurin'bi Island in the Haa Dhaalu Atoll and discussed the administration's developmental plans for the island. The meeting was held at the President's Office.
Discussions at the meeting centred on the ongoing developmental projects on the island and the most pertinent needs of the island's community. At the meeting, the council members shared with the President their 100-year developmental strategy and land-use plans for the island. Topics discussed at the meeting included challenges related to harbour use, space constraints at the Secretariat of the Council, and the lack of a dedicated swimming area.
Speaking at the meeting, the President noted that funds had been earmarked in the state budget for 2023 to address most of the concerns raised by the council members. He highlighted plans to develop a new administrative building and football grounds and assured discussions with relevant stakeholders to address the need for harbour expansion. He also said a dedicated swimming area could be developed as part of harbour expansion work.
At the meeting, the council members highlighted that this administration was behind most of the developmental projects carried out on the island and stated that the meeting with the President had renewed their hopes of addressing the concerns of the island's community.