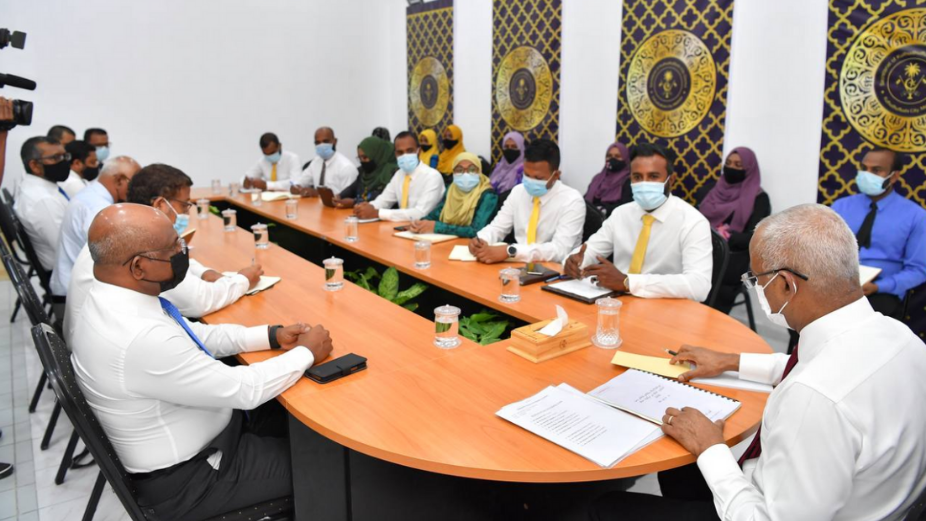 President Ibrahim Mohamed Solih has met with the members of the Kulhudhuffushi City Council and the Women's Development Committee (WDC), where the Councillors reported that they had made citywide headway with the swift progression of the ongoing government developmental projects within the city. The meeting was held this evening at the Secretariat of Kulhudhuffushi City Council, following a special dinner hosted by the city in honour of the first couple.
The Councillors stated that the concerns they had raised with the President during their previous discussions had already been addressed. They had previously recommended alterations to the road layouts and the inclusion of "dewatering" drainage systems- now included in the road development project underway. Further discussions during the meeting were focused on the most pertinent sectors and projects for the city such as scarcity of housing and youth development. They also discussed initiating the tertiary hospital project at the earliest and possible uses for the vacant land north of the airport.
The members of Kulhudhuffushi City WDC also spoke during the meeting, outlining their work and the difficulties in conducting their planned programmes within the city.
Speaking during the meeting, President Solih delineated the projects underway at Kulhudhuffushi City. He shared the latest updates for several of the government's main undertakings at the city including the road development project, the regional hospital upgrade and the tertiary hospital project. He also stated that Kulhudhuffushi City is one the high priority residential areas for the government's upcoming large-scale housing project. President Solih affirmed that the government would work with relevant stakeholders to swiftly address all concerns raised during the meeting.
The first couple's current visit to Kulhudhuffushi City is the first leg of a three-island trip to the north of the country. From Kulhudhuffushi City, the President and the First Lady will visit Kumundhoo Island, and then Hanimaadhoo Island of Haa Dhaalu Atoll. Cabinet Ministers, along with senior government officials are accompanying the President and First Lady on this trip.