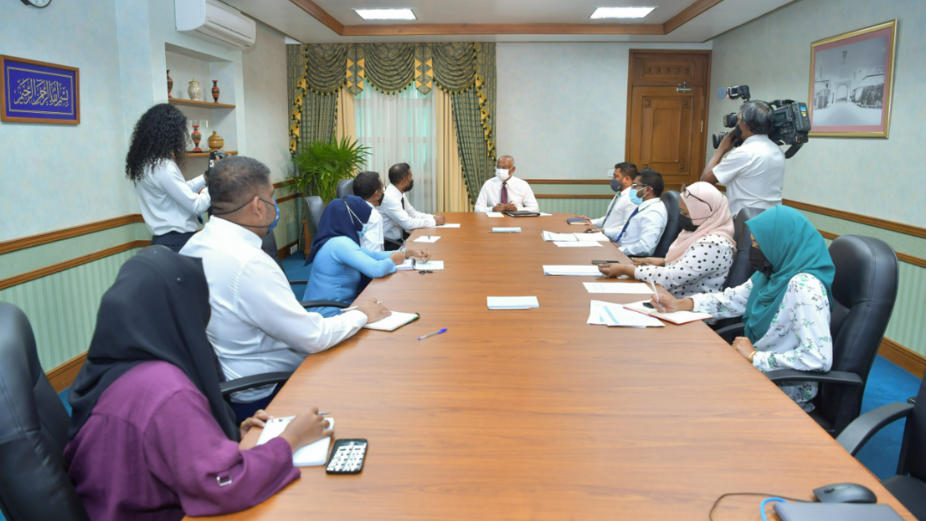 President Ibrahim Mohamed Solih has met with the members of the North Huvadhu Atoll Council, urging them to exercise the powers granted under the Decentralisation Act for the national interest rather than for the benefit of individual islands. The Council pledged to provide all necessary help in carrying out atoll development projects and meeting the governments' commitments.
Discussions during the meeting, held at the President's Office on Thursday afternoon, spotlighted atoll developmental plans and several pivotal issues faced by the constituents of North Huvadhu Atoll. Noting the difficulties faced by island councils in obtaining a sufficient budget for their developmental projects, the members of the Atoll Council petitioned to authorise the use of uninhabited islands in the Atoll for economic resources. They also requested the government to speed up the ongoing resort development projects in North Huvadhu Atoll. Furthermore, Councillors discussed challenges that residents experience in the fisheries sector, space constraints in the hospital, the lack of a hostel at the Gaafu Alifu Atoll Education Centre, and the lack of basic amenities at Kooddoo Airport.
Addressing the concerns raised by the Councillors, President Solih stated that the government is working on enabling the provision of a portion of the resort land rents received by the government. He also gave updates on the upcoming MIFCO extension project which would address the difficulties faced by the Kooddoo fisher community. Moreover, President Solih also gave updates on the hospital development under the USP and said that the government would work with relevant parties in addressing all concerns shared by the Councillors.