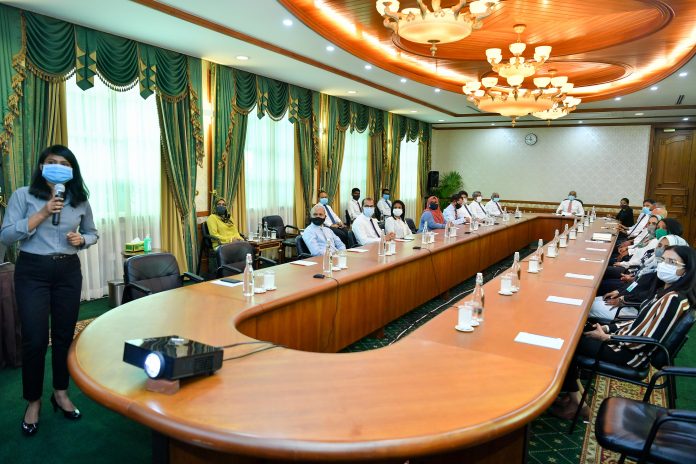 President Ibrahim Mohamed Solih met with the Minister of Foreign Affairs, Abdulla Shahid, and Foreign Ministry executives, regarding the Maldives' major foreign policy priorities taking into account the impacts of the Covid-19 pandemic. The meeting was held this morning at the President's Office. At the meeting, Foreign Ministry executives briefed the President on their roadmap for utilizing diplomatic missions and other ministry resources effectively, to help the country realize its foreign policy goals.

In alignment with the President's stated foreign policy vision, the presentation stressed that the Maldives' diplomacy will continue to emphasize the promotion of human rights and climate change. It also expounded on the Ministry's strategies to enhance trade and investment opportunities for the Maldives, while bolstering the country's tourism sector, obtaining foreign direct investment and assistance, and helping the country respond to the challenges of the COVID-19 pandemic. Ministry officials also briefed the President on the work already underway to achieve these goals.

The President thanked the Foreign Minister and Ministry executives and offered praise to the hardworking cadre of Maldivian diplomats, stationed at headquarters and in diplomatic missions the world over. He acknowledged their contributions towards helping the Maldives weather the ongoing pandemic and their broader efforts to promote the Maldives' values and interests in the international arena.