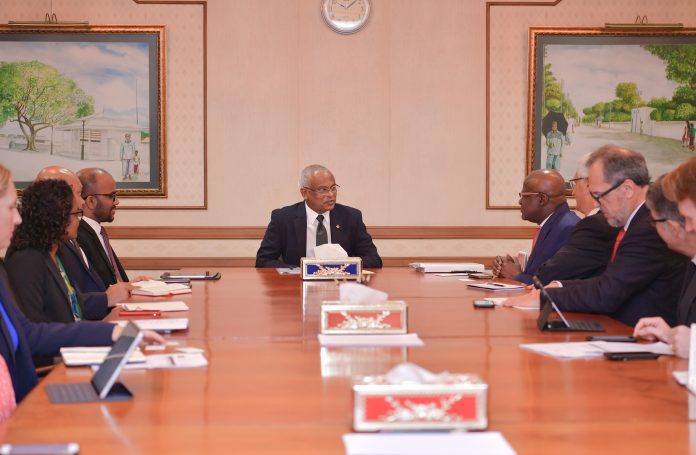 President Ibrahim Mohamed Solih has held discussions with a visiting delegation of the World Bank regarding the administration's developmental plans. The meeting was held this morning at the President's Office.
During the meeting, President Solih extended his appreciation for the World Bank's continued engagement with the Maldives and support towards the administration's developmental agenda. He discussed the administration's decentralization policy on strengthening local governance and the Maldives' financial situation, especially the challenges of accessing concessional financing for developmental projects.
He also noted plans to address the impacts of climate change, highlighting the administration's ambitious pledge to completely phase-out single-use plastics by the year 2023.
Discussions at the meeting were also focussed on the administration's efforts to address the concerns of vulnerable communities; ensuring social protection, providing access to better healthcare and creating jobs and educational opportunities for all. Deliberations were also held on the administration's aspiring social housing policy and addressing income and wealth distribution.
The World Bank delegation shared information about their recent visit to Addu City, which they noted was very fruitful and productive. They also commended the administration's forward-looking governance policies, developmental agenda and noted that the administration's Strategic Action Plan is ambitious and promising.
The meeting concluded with both sides resolving to work closely in the future, with the World Bank delegation assuring their commitment for continued engagement with the Maldives.