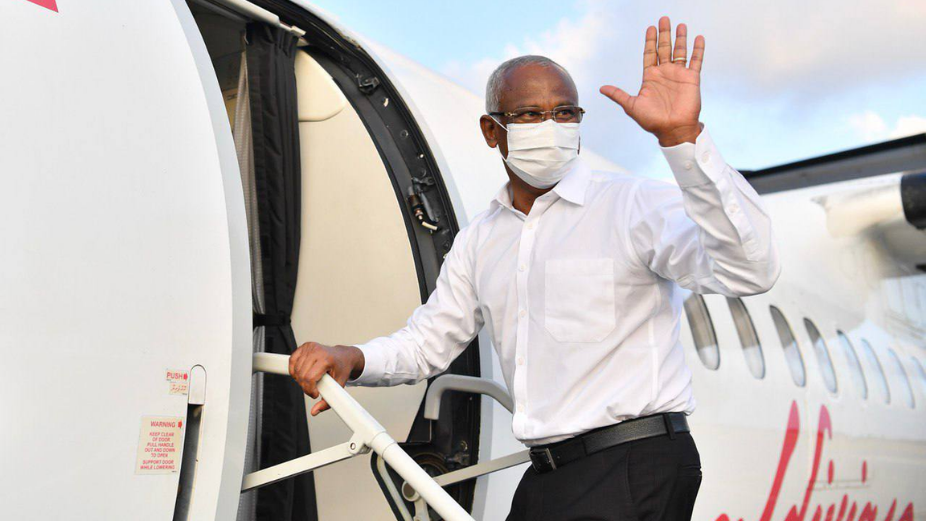 On Sunday afternoon, President Ibrahim Mohamed Solih has concluded a three-day visit to six islands in the Lhaviyani Atoll.
President Solih visited Madivaru, Hinnavaru, Felivaru, Naifaru, Olhuvelifushi, and Kurendhoo Islands and met with community leaders, including members of the atoll council, local councils, women's development committees, and management and staff of public offices and residents of the respective islands. He also inspected and assessed the progress of developmental projects underway in the islands.
As part of the programme, President Solih officially inaugurated the newly developed airport on Madivaru Island, where he stated the significance of connectivity to the administration's decentralisation policy, adding that with the inauguration of the Madivaru Airport in Lhaviyani Atoll, every atoll north of Malé has been integrated with an airport.
During the trip, the President officially inaugurated Madhrasathul Ifthithaah's new extension building, housing 10 classrooms, an audio-visual room, and a staff room in Lh. Naifaru Island. He also attended the ceremony held on Naifaru Island to hand over the newly built 100 housing units to the island council.
The President was accompanied on the trip by a high-level delegation from the government.