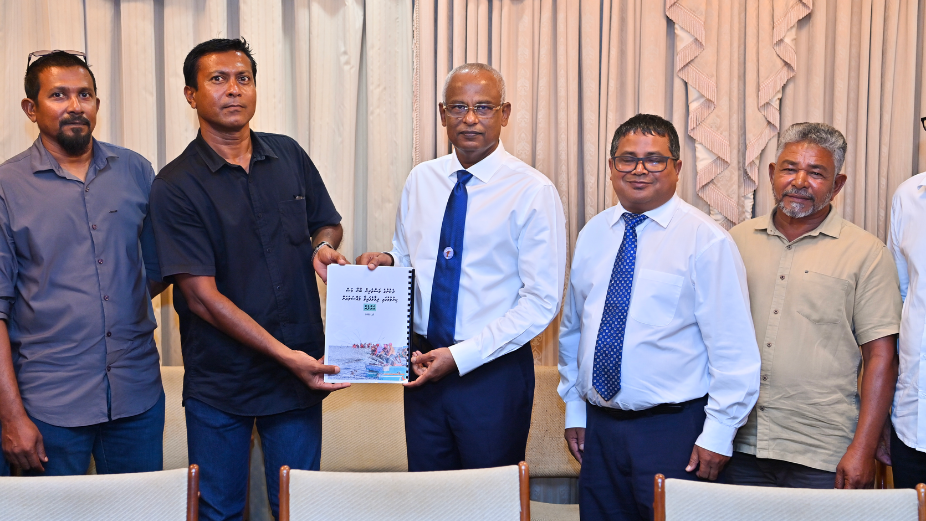 President Ibrahim Mohamed Solih on Sunday met with a team of fishermen from the southern atolls and held extensive discussions about their concerns. At the President's Office meeting, the fishermen shared with the President a video presentation outlining their grievances.
Some of the issues raised by the fishermen concern challenges they face in selling catch at processing facilities, including time and travel expenses, and long waiting times. The fishermen highlighted the need to establish processing facilities near Faresmaathodaa Island in the Gaafu Dhaalu Atoll to cut down on travel expenses between fishing grounds and processing facilities.
Speaking with the fishermen, President Solih reiterated his commitment to addressing the industry's primary concerns and said that more needs to be done despite significant progress in developing the sector further. President Solih then assured them that the administration would continue to listen to and consider the concerns and recommendations of expert fishermen, adding that the views shared at the meeting today would be taken into consideration while strengthening the fishing sector in the southern atolls.
In conclusion, President Solih assured the fishermen that temporary solutions to difficulties in selling fish at processing facilities would be provided this year, followed by efforts to establish permanent solutions.