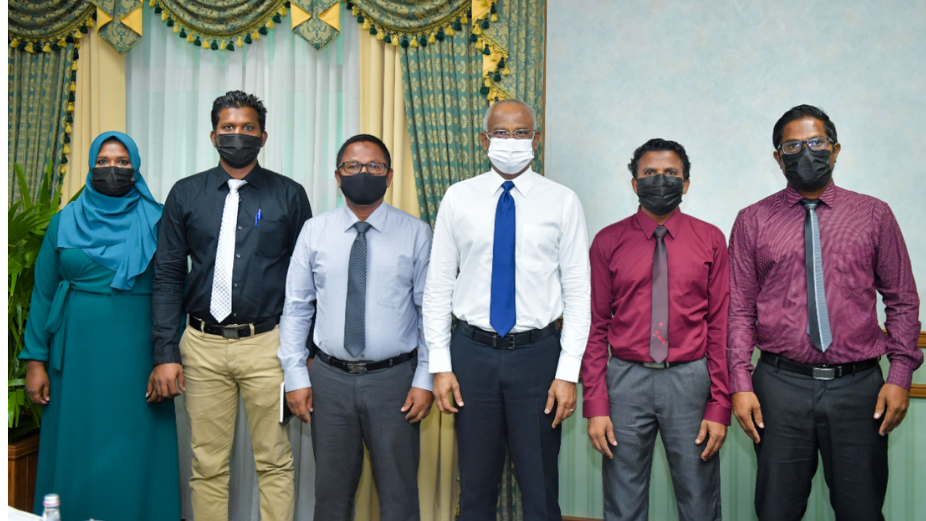 President Ibrahim Mohamed Solih has held discussions with Councillors from the Ukulhas Island Council of Ari Atoll Uthuruburi. Councillors shared the most pertinent interests from their constituency with the President.
Speaking during the meeting, the council members noted that residents of the island had raised several concerns affecting their daily lives and livelihoods. They stated that the most important government project for Ukulhas Island is land reclamation to address space scarcity. They also discussed several urban development programmes, such as road development, upgrading the ferry terminal and repairs to the jetty at the local harbour. Councillors also requested for a youth centre, or similar programmes aimed at the youth, as well as establishing a Technical-Vocational Education and Training (TVET) Centre on the island. Further, they discussed avenues to improve healthcare on Ukulhas Island by expanding and broadening the availability of medical services at the Health Centre.
President Solih addressed the concerns raised by the Councillors at yesterday's meeting. He stated that the government would provide full support to the Island Council to lawfully commission the ferry terminal upgrades to a private contractor. He further assured the Councillors that he would raise their concerns with the relevant government agencies to find swift solutions.
Over the past two years, this government had spent an estimated MVR 25,930,550 on development projects at Alifu Alifu Ukhulas Island, including the establishment of an outdoor gym, electricity network upgrades and acquisition of a new 600kW electric generator. A project to repair damages to the ferry terminal is currently ongoing, as is the Ukulhas land reclamation project, contracted to Maldives Transport and Contracting Company (MTCC). Additionally, a project to develop a youth centre on the island and the extension of the Health Centre are in the pipeline for Ukulhas Island, to be tendered in the last quarter of this year.