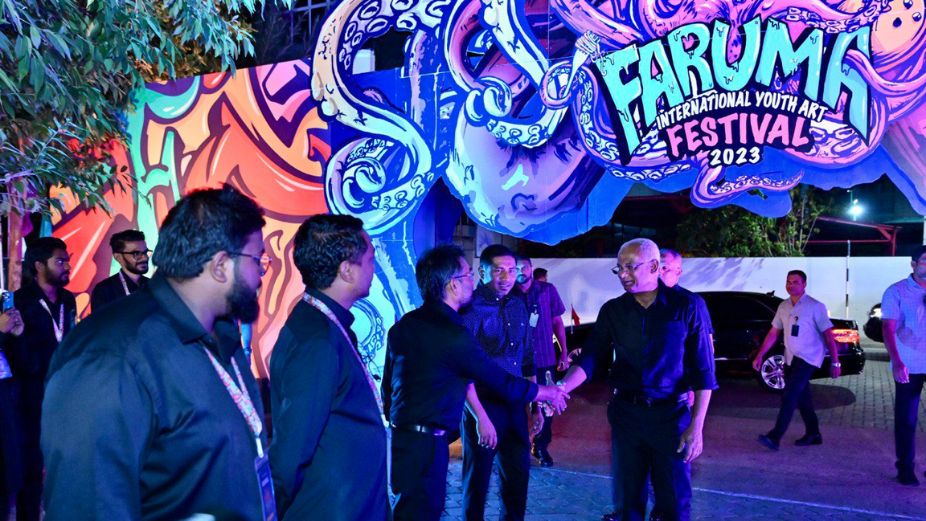 President Ibrahim Mohamed Solih has inaugurated the Faruma International Youth Art Festival 2023, the first-ever international art festival hosted in the Maldives.
The festival is an initiative of the Ministry of Youth, Sports and Community Empowerment, organised in association with the local artists' community. Open from May 8-13, 2023, at the Maldives Center for Social Education (MCSE), the festival features the works of 80 artists and artisans from eight countries.
Speaking about the festival, President Solih celebrated the participation of local talent and stated that their work empowers the administration to remain committed to building a skilled and productive workforce. He added that every festival category showcasing the artisanship of local talent is crucial for national development.
Highlighting the numerous contributions and invaluable services of past artists and talented artisans, President Solih stated that our rich history is a testament to their outstanding creativity and skilled artisanship. He also noted the exemplary craftsmanship of coral stone carvers, lacquer artisans, carpenters, and boatbuilders.
The President also stated that true creativity is building human resources in various disciplines integral to national development. He added that nations are made with the help of modern advancements through the dedication and hard work of skilled workforces with creative mindsets.