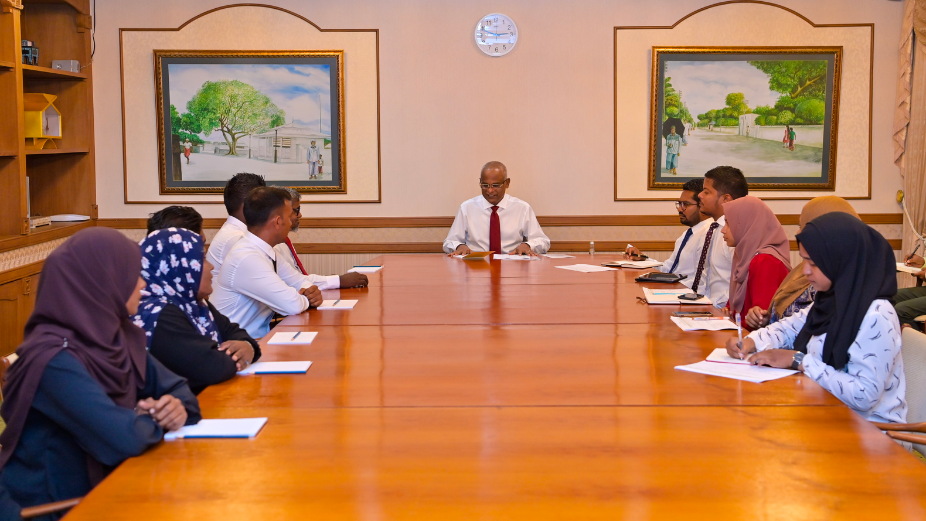 President Ibrahim Mohamed Solih met with the council members of Nellaidhoo Island in the North Thiladhunmathi Atoll on Sunday. At the meeting, held at the President's Office, the council members expressed delight over introducing the "Raajje Transport Link" ferry service in the atoll. They also shared the residents' appreciation for the new service, stating that it would bring convenience to their lives.
The council members recalled their previous meeting in 2019 with the President and noted that many of the concerns raised at the meeting are currently being addressed. They noted that the administration had completed the harbour, football field, and coastal protection projects, while the project to develop a new powerhouse is ongoing. They also expressed their gratitude for the unprecedented levels of development the island is seeing under President Solih.
The council members also shared with the President the most pertinent needs of the residents. Some of the concerns discussed at the meeting included levelling roads; addressing space constraints at the school; and establishing proper waste management facilities. They also asked the President to bring the neighbouring uninhabited island of Hirinaidhoo under the council's jurisdiction.
President Solih spoke about the priority he accords to speaking with council members and other representatives from the islands. Regarding the topics discussed at the meeting, the President assured the council members that the administration would seek ways to address them. He also told them about his plans to work with relevant government agencies to address the school's issues and develop a new office building for the council secretariat.