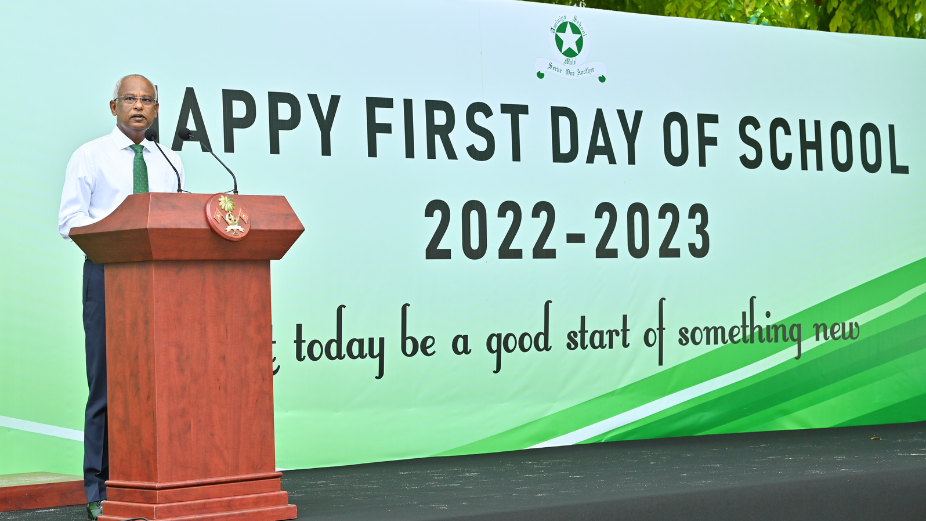 President Ibrahim Mohamed Solih on Sunday called on all students to face the new academic year with enthusiasm and a fresh resolve for success. He made the statement while speaking at the special assembly in Aminiya School to mark the beginning of the new Academic Year 2022-2023.
The President outlined that attending school entails learning, instilling good behaviour, and becoming healthy and responsible. He stated that helping one another in school would help to ensure that it is a happy place for all students.
Highlighting the country's current state and the world, the President urged students to be mindful of two essential things: environmental protection and economising. He said that contributing to environmental protection and promoting economising are principles every student should strive to instil in themselves from an early age.
In addition to developing students' learning experiences and environment, the President also stressed that the administration is leading numerous initiatives to build infrastructure and increase teacher education and technical development opportunities.
Expressing his hopes that these initiatives would spark interest in more people to join the education sector and facilitate the hiring of educated and skilled teachers, the President said it would lead to delivering the administration's goal of building generations of well-educated and productive youth.
The Academic Year 2022-2023 commenced on Sunday across the country in 271 schools with a total student population of 92,000. 76,000 would attend 217 public schools staffed with over 8,300 teachers.