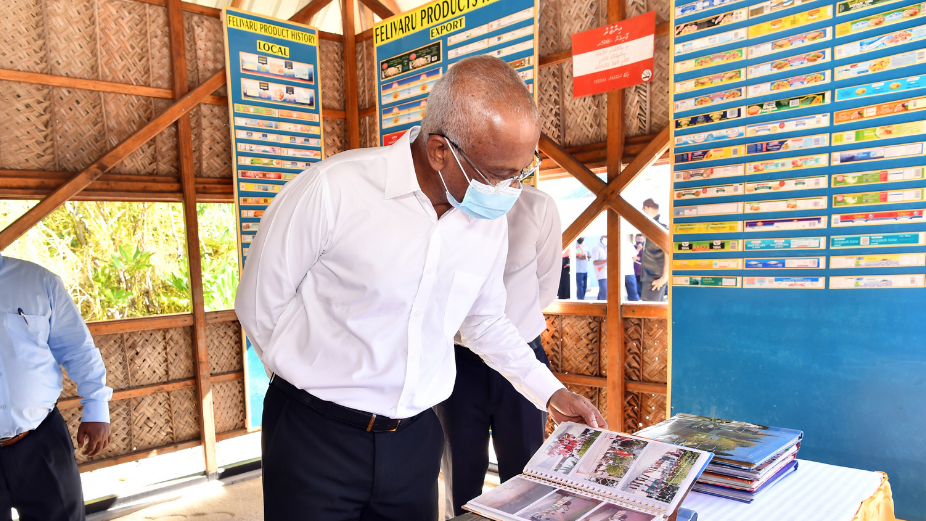 President Ibrahim Mohamed Solih, on Thursday, visited Felivaru Island in Lhaviyani Atoll and toured the island.
President Solih visited the Fishermen's Marina Hall and observed the layout and drawings for the proposed 4000 MT cold storage facility. He toured the Felivaru fish canning factory, the existing cold storage facility at the Felivaru Fisheries Complex and the new site reclaimed for the proposed cold storage facility.
Once established, the new cold storage facility will be an improvement to the existing one, which does not have the technological equipment and capacity to produce enough ice to cater to the demands of modern fish processing facilities. It will also be able to better cater to the growing needs of the market.
During his tour around Felivaru Island, President Solih also briefly met with a group of fishermen on board their vessel docked at Felivaru harbour. The fishermen shared concerns with the President regarding the availability of ice and fish weighing. He assured them that the Government is working on resolving the issues at the earliest.
The President made his first stop at Lhaviyani Maafilaafushi earlier this morning, where he inaugurated the Maldives National Defense Force's (MNDF) 66th Basic Training Course. He also inaugurated 'The Basic School' (TBS), a military training school under MNDF during his visit to the island.