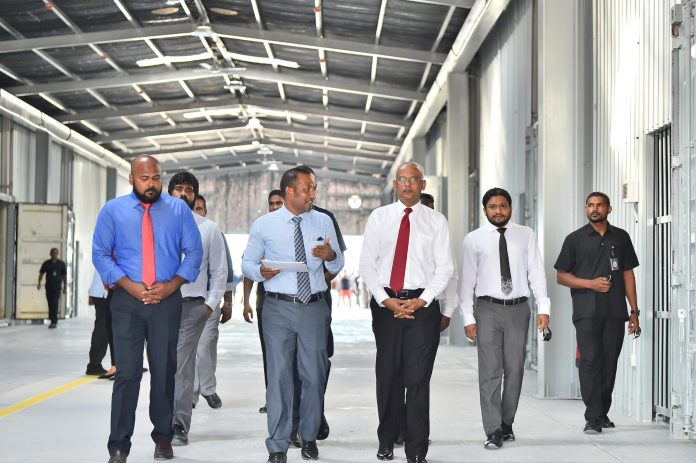 President Ibrahim Mohamed Solih has visited Thilafushi Chemical Storage Warehouses and observed the progress of establishing the facilities needed for the government's initiative for the relocation of hazardous and flammable chemical storages outside of Malé and away from residential areas.
Upon his visit to the location this afternoon, the President was welcomed by the Managing Director of Greater Malé Industrial Zone Limited (GMIZL), Ibrahim Rasheed Abubakur and other senior figures of GMIZL. During his visit, President Solih observed the efforts underway by GMIZL in constructing the warehouses and enquired about safety and security measures in place.
The decision to shift chemical storage facilities out of Malé has been expedited after the Cabinet's decision on the matter following the tragic fire incident in Henveyru Ward last September, which claimed the life of one individual and destroyed several buildings and homes beyond use.
Cabinet Ministers decided on the relocation of hazardous and flammable chemicals out of Malé at an emergency session in a bid to ensure the safety and security of the people living in the congested capital city, Malé.
Thilafushi Chemical Storage Warehouse built by GMIZL contains 34 godowns, with storage units of 300 to 800 square feet in area.
Following the devastating fire incident at Henveyru Ward, emergency services worked around the clock to ensure the placement of preventive measures to prevent the repetition of such incidents. Some notable efforts carried out by the government include the revision of fire safety standards and the review and revision of the guidelines of handling, transport, and storage of hazardous and flammable chemicals imported to the country.