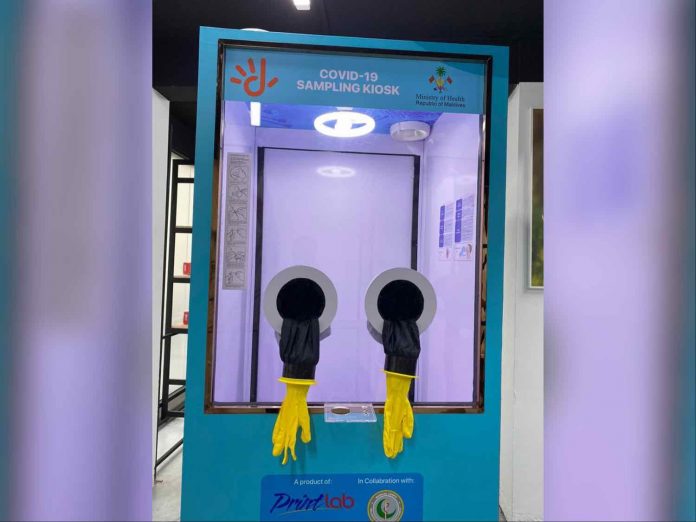 The first COVID-19 sample kiosks in Maldives was locally designed and developed by Print Lab Creative together with MNDF Senahiya to fit all medical requirements of Ministry of Health and National Emergency Operations Centre.
The sample kits were sponsored by Dhiraagu. A total of 15 COVID-19 Sampling Kiosks were donated to address the requirements of Ministry of Health to be placed in Greater Male' and across atolls in Maldives.
The sampling kiosks will help protect front line health care professionals by preventing direct contact with suspected COVID-19 patients and reducing the usage of Personal Protective Equipment which is currently limited in the global market. It will also help increase safe testing for COVID-19 in Maldives and address a key need in the community.
The kiosks are developed in a way where healthcare professionals can stand behind the glass wall and collect the sample with the help of thick gloves attached to the glass panel. The kiosks also have a sanitizer bottle attached on the outside.
PrintLab creative is a large format digital printing facility owned by Tropical Investments Pvt. Ltd, serving clients throughout the Maldives. PrintLab is the largest wide and large format printer in the in Maldives with more than 8 printing machines, including specialized printers to fabric and print and cut.